Shirogane Noel (白銀ノエル) is a female Japanese Virtual YouTuber associated with hololive, as part of its third generation of VTubers under the name of "hololive Fantasy" (ホロライブファンタジー) alongside Usada Pekora, Uruha Rushia, Shiranui Flare, and Houshou Marine.
Introduction Video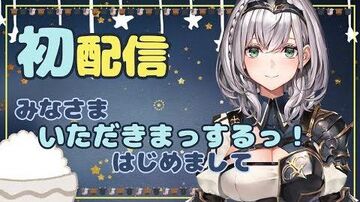 Noel's introduction.

Personality
History
Background
Her Twitter account was opened on 22 July 2019 while her YouTube channel was created on 26 July. She debuted with her introduction stream on 8 August.[1]
On 14 November, she announced on her Twitter account the debut date of her 3D model,[2] which later debuted during a stream on 17 November,[3] being the first of her generation to get a 3D model.
2020
On 1 January, her YouTube channel got demonetized, she stated on Twitter that this was caused because of her ASMR videos,[4] just like Haato, Choco, Aki and Mel.
On 2 January, she got a kimono as her New Year's oufit, being her second 2D costume overall.[5]
On 24 January along with the other hololive girls up to the third generation, she debuted her 3D idol outfit at hololive's 1st fest Nonstop Story.[6]
On 31 January, she announced in her Twitter account the remonetization of her channel.[7]
Events
Fans
Her fanbase is officially called "Order of Shirogane" while in Japanese they are called "Shirogane kishi-dan" (白銀騎士団).
Trivia
On several occasions when pressed to specify her bust size, Noel has claimed that she is a K-cup. She has also jokingly stated that this stands for "Knight-cup".
She has a notably large appetite, indicating on several occasions that she enjoys extremely large serving portions when they are available. Fans have commented that this increased caloric intake makes sense considering Noel's height, impressive athletic abilities and her notable bust size.
Dissatisfied with her own singing ability, she works with a voice coach in hopes of improving her musical talents. According to Noel, her coach is particularly harsh and difficult to impress. However, after hearing Ookami Mio singing during the Toyosu PIT live-event, her voice coach remarked at how talented Mio was, much to Noel's dismay.
External Links
References
Community content is available under
CC-BY-SA
unless otherwise noted.