This is a Japanese name; the family name is Shirogane.
Associated pages
Shirogane Noel (白銀ノエル) is a female Japanese Virtual YouTuber associated with hololive, debuting as part of its third generation of VTubers under the name of "hololive Fantasy" (ホロライブファンタジー) alongside Usada Pekora, Uruha Rushia, Shiranui Flare and Houshou Marine.
Introduction Video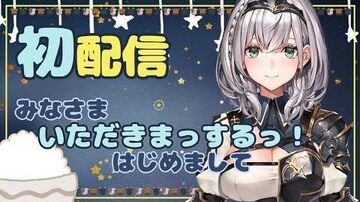 Profile
"Hey muscle! Shirogane Noel's here!"
While she is easy-going, she has a dangerous side where she attempts to solve all her problems with muscle power. As much as this fluffy, meatheaded knight hungers for power, she came to the world of VTubers where all the stronk people are, for training.[2]
Personality
Noel is a clumsy but mostly wholesome knight, with a more girlish voice than her appearance would suggest (though she can pull out a mature older sister voice if the occasion calls for it). Her character archetype is best described as having more muscle than brains; she often streams video games, but is rarely seen actually doing well in them.
Noel's thirst for Shiranui Flare is arguably matched only by Natsuiro Matsuri's thirst for girls in general. She gets jealous if Flare so much as interacts with someone else, and since Flare is somewhat of a chick magnet, this happens very often.
History
Background
Noel was one of the five hololive VTubers first announced on 13 June 2019 as part of the third generation. Her Twitter account was opened on 22 July 2019 while her YouTube channel was created on 26 July. She made her first tweet on 1 August and debuted with her introduction stream on 8 August.[3]
2019
On 14 November, she announced on her Twitter account the debut date of her 3D model,[4] which later debuted during a stream on 17 November,[5] being the first of her generation to get a 3D model.
2020
On 1 January, her YouTube channel got demonetized, she stated on Twitter that this was caused because of her ASMR videos,[6] just like Haato, Choco, Aki and Mel.
On 2 January, she got a kimono as her New Year's oufit, being her second 2D costume overall.[7]
On 24 January along with the other hololive girls up to the third generation, she debuted her 3D idol outfit at hololive's 1st fes. Nonstop Story.[8]
On 31 January, she announced in her Twitter account the remonetization of her channel.[9]
On 16 October, hololive's Twitter account announced that Noel, Houshou Marine, Murasaki Shion and Yuzuki Choco would get new 2D costumes.[10]
On 21 October, Noel debuted her third 2D costume during a stream, a huge contrast compared to her knight outfit, she wears modern casual clothes, she wears black choker with a blue snowflake, a white blouse, with a brown squares skirt, black socks and brown shoes, she also debuted a new air style and as an option she can wear glasses.[11] In addition to this she also got her 2D model updated, with improvements to her facial expressions.[12]
On 5 December, she reached 700,000 subscribers, the 12th member of hololive to do so. On the same day, Nekomata Okayu reached that same threshold.
2021
On 21 January, she reached 800,000 subscribers on her YouTube channel, during an endurance singing stream.[13]
On 6 March, Noel reached 900,000 subscribers on her YouTube channel, during an endurance singing stream.[14]
On 12 April, Noel reached 1,000,000 subscribers on her YouTube channel, during an endurance singing stream, making her the 12th member of hololive to reach that milestone and the 9th member of hololive JP to do so. This makes her the fourth member of hololive Fantasy to reach it.[15]
On 31 May, Noel announced on Twitter what in the moment appeared to be a new 2D costume to celebrate World Milk Day.[16]
On 1 June, celebrating the date mentioned before, instead of getting a new outfit, Noel got new accesories for her casual costume, including cow's horns, ears and tail alongside a new set of clothes with a cow pattern and a cowbell.[17]
Discography
Main page: Shirogane Noel/Discography
Kirameki Rider☆
as hololive IDOL PROJECT    
Release Date
24 February 2020

Track List

"Kirameki Rider☆"
"Kirameki Rider☆" (instrumental)

External links
Digital Release • YouTube
DAILY DIARY
as hololive IDOL PROJECT    
Release Date
21 January 2021

Track List

"DAILY DIARY" (でいり〜だいあり〜!)
"DAILY DIARY" (instrumental)

External links
Digital Release • Music Video
Events
On 28 January 2020, it was announced on Dengekionline that she would made an appearance in the game Neptunia Virtual Stars as one of the VTuber guest characters alongside Tokino Sora, Roboco, Sakura Miko, Shirakami Fubuki, Minato Aqua, Yuzuki Choco, Inugami Korone and Houshou Marine.[18]
On 2 July 2021, the official hololive Twitter account announced that Noel would appear in a collaborative promotion campaign for the movie Evangelion: 3.0+1.0 Thrice Upon a Time, along with Houshou Marine, Uruha Rushia, Sakura Miko, Minato Aqua, A-chan and a secret person as guests.[19] Initially, the project was scheduled to released on 3 July, however, it has since been postponed indefinitely.[20]
Fans
Her fanbase is officially called "Order of Shirogane" while in Japanese they are called "Shirogane kishi-dan"「白銀騎士団」.
Trivia
Noel's Familial "白銀 (Shirogane)" can be divided thus. The first kanji "白" can be read as "Shiro/Haku" which bear the meaning of "White" . The second kanji "銀" can be read as "Gin/Gane" which bear the meaning of "Silver".
On several occasions when pressed to specify her bust size, Noel has claimed that she is a K-cup. She has also jokingly stated that this stands for "Knight-cup". According to other members of hololive, her avatar's bust size is an accurate depiction of her true size.
She has a large appetite, indicating on several occasions that she enjoys extremely large serving portions when they are available. Fans have commented that this increased caloric intake makes sense considering Noel's height, athletic abilities, and impressive bust size.
Dissatisfied with her own singing ability, she works with a voice coach in hopes of improving her musical talents. According to Noel, her coach is particularly harsh and difficult to impress. However, after hearing Ookami Mio singing during the Toyosu PIT live-event, her voice coach remarked at how talented Mio was, much to Noel's dismay.
During one stream, she mentions that during her school years, she was nicknamed "The Running T*ddy Cow", in reference to her large, absolute bust. As such, she is typically depicted around cow imagery and anything to do with milk, and on occasion baby bottles due to breasts maternal role in feeding. The fact that she has Shiro「白」in her name only strengthens this milky depiction.
She is the seventeenth hololive member to join the official Hololive Subreddit as a moderator.
On February 2021, she and Flare got custom made platinum rings.
External Links
Media
Further readings
References