This is a Japanese name; the family name is Shiromiya.
Associated pages
Shiromiya Mimi (白宮みみ) is a female Japanese Virtual YouTuber, associated with 774 inc. as part of the company's branch group AniMare (あにまーれ).
Introduction Video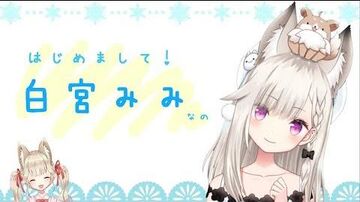 Personality
History
Background
Her YouTube channel was created on 14 May 2019, with her Twitter account also being created this month, her first tweet was published on 19 May,[1] she debuted on YouTube with a short video on 5 June.[2] Initially, she was affiliated with PLIVYou, a VTuber group produced by her character designer Yasuyuki until the group was disbanded on November 2019. Mimi, along with other ex-PLIVYou members, continued her activities as an independent VTuber.
2019
On 1 December during her birthday, she debuted her first original song "Issho Ni!" the song became her stream's end except for collabs.[3]
2020
On 11 April, AniMare's Twitter account announced that four new members would join soon, Mimi among them, on the same day Mimi stated that she would take a small break to prepare herself.[4][5]
On 18 April, she reintroduced herself, now as a member of AniMare, showing a picture of her new model, matching the style and theme of the rest of the members.[6]
On 25 April, she made her first official stream as a member of AniMare.[7]
Events
Mascot
She has a small mascot named "Ponta" (ポン太) which she describes as her best friend. It is always on top of her head. Sometimes its barking can be heard while streaming.
Trivia
Mimi shares her character designer with Uruha Rushia of hololive, Kamishiro Natsume, and Hoozuki Warabe of NoriPro.
Mimi is the second former PLIVyou member with an original song (Shikai Yue being the first, but Mimi released her song later of PLIVyou's disbandement).
Mimi and Tsukinoki Tirol are the only members of AniMare who were already established VTubers before joining AniMare.
As of September 2021, Mimi is the only active member of her wave.
External Links
References