This is a Japanese name; the family name is Shishiro.
Associated pages
Shishiro Botan (獅白ぼたん) is a female Japanese Virtual YouTuber associated with hololive, as part of its fifth generation of VTubers alongside Yukihana Lamy, Momosuzu Nene, Mano Aloe, and Omaru Polka.
Introduction Video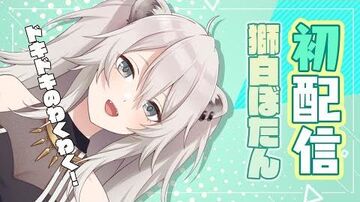 Botan's introduction.

Personality
Botan's cool, mature appearance belies a cheerful and easygoing nature. She appears as very laid back during streams, even through intense gameplay and abrupt chaos. Botan cares deeply for her fellow Generation 5 hololive members, and sometimes acts as a leader for the group. She also has a bit of a mischievous streak-examples include dragging her friends into playing horror games and attempts to eat Tsunomaki Watame.
Profile
The mind of a lazy house cat in the body of a fearsome white lion. She's conscientious and will finish what she has started, but good luck getting her to start. Her favorite phrase is, "Go big or go home!"[4]
History
Background
She was introduced on hololive's YouTube channel in a small introductory video along with the rest of the fifth gen on 6 August 2020.[5] Her Twitter account was created in April 2020, she made her first tweet on 6 August.[6] Her YouTube channel was created on 12 April, but she debuted on 14 August 2020 during a stream, also reaching 100,000 subscribers during that day.[7]
2020
On 12 December, she reached 500,000 subscribers, the first member of hololive's 5th generation to do so.[8]
On 29 December, hololive's Twitter accounts announced that eight of their members would get "New year" costumes, Botan being one of them.[9]
2021
On 1 January, she debuted her second 2D costume, a new year kimono during a stream.[10]
On 4 January, hololive's official Twitter account teased a future announcement regarding three of the four members of hololive fifth generation.[11]
On 12 January, Botan announced that she would get her 3D model during a stream.[12][13]
On 16 January, she debuted her 3D model during a stream with more than 100,000 live viewers. Botan also reached 600,000 subscribers shortly after.[14]
On 3 March, she reached 700,000 subscribers on her YouTube channel during a singing stream.[15]
Discography
Singles
Events
Fans
Trivia
External Links
Solo Debutants
(hololive 0th Gen)
First Generation
Second Generation
hololive GAMERS
Third Generation
(hololive Fantasy)
Fourth Generation
Fifth Generation
(NePoLaBo)
INoNaKa MUSIC
Retired
References
Community content is available under
CC-BY-SA
unless otherwise noted.