This is a Japanese name; the family name is Shishiro.
Associated pages
Shishiro Botan (獅白ぼたん) is a female Japanese Virtual YouTuber associated with hololive, debuting as part of its fifth generation of VTubers alongside Yukihana Lamy, Momosuzu Nene, Mano Aloe, and Omaru Polka.
Introduction Video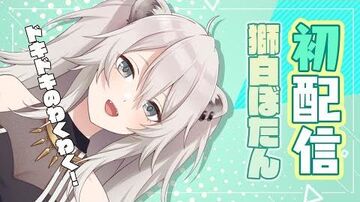 Profile
hololive.hololivepro.com
Contrary to her sporty appearance, she's a white lion who prefers lazing around.

Despite her typically hands-off attitude, once she has made up her mind she will always follow through to the end.

Her favorite phrase is "Wealth isn't measured with money."[4]
hololive.tv
The mind of a lazy house cat in the body of a fearsome white lion. She's conscientious and will finish what she has started, but good luck getting her to start. Her favorite phrase is, "Go big or go home!"[5]
Personality
Botan's cool, mature appearance belies a cheerful and easygoing nature. She appears as very laid back during streams, even through intense gameplay and abrupt chaos. Botan cares deeply for her fellow Generation 5 hololive members, and sometimes acts as a leader for the group. She also has a bit of a mischievous streak—examples include dragging her friends into playing horror games and attempts to eat Tsunomaki Watame. Botan laughs often, even—maybe especially—when she encounters a challenge.
History
Background
She was introduced on hololive's YouTube channel in a small introductory video along with the rest of the fifth gen on 6 August 2020.[6] Her Twitter account was created in April 2020, she made her first tweet on 6 August.[7] Her YouTube channel was created on 12 April, but she debuted on 14 August 2020 during a stream, also reaching 100,000 subscribers during that day.[8]
2020
On 12 December, she reached 500,000 subscribers, the first member of hololive's 5th generation to do so.[9]
On 29 December, hololive's Twitter accounts announced that eight of their members would get "New year" costumes, Botan being one of them.[10]
2021
On 1 January, she debuted her second 2D costume, a new year kimono during a stream.[11]
On 4 January, hololive's official Twitter account teased a future announcement regarding three of the four members of hololive fifth generation.[12]
On 12 January, Botan announced that she would get her 3D model during a stream.[13][14]
On 16 January, she debuted her 3D model during a stream with more than 100,000 live viewers. Botan also reached 600,000 subscribers shortly after.[15]
On 3 March, she reached 700,000 subscribers on her YouTube channel during a singing stream.[16]
On 23 May, she reached 800,000 subscribers on her YouTube channel during a Minecraft stream.[17]
On 27 July, she reached 900,000 subscribers on her YouTube channel during a singing stream.[18]
On 12 August, she announced on Twitter that she would debut her first original song "Lioness' Pride."[19]
On 1 September, hololive's Japanese Twitter account announced that Botan and Lamy would receive their third 2D costumes.[20]
On 2 September, Botan debuted her third 2D costume. In this costume Botan got a new hairstyle as her hair now reaches past her lower back in contrast to her usual hairstyle that just reaches below her shoulders. Botan wears a white blouse with a black corset, small black tight shorts, see-through stockings and black shoes. In another variant she just wears a black and gray top with a dog tag that includes her name, her birthday and her debut date. She can also wear a black vest over her blouse and a pair of night vision goggles on her eyes.[21]
On 25 September in celebration of the fifth generation first anniversary, Botan got a new hairstyle with shorter hair, unlike her other costumes in this style she wears fuchsia colored earrings as well as two hairpins, one light blue and the other yellow that seem to be melting, additionally Botan also has lights of those colors in her hair to represent her generation mates.[22]
On 16 October, Botan reached 1,000,000 YouTube subscribers, making her the 23rd hololive member, as well as the 18th member of hololive JP, to reach this milestone. It also makes her the first of hololive's 5th generation to reach it as well.[23]
Discography
Main page: Shishiro Botan/Discography
Events
On 8 April 2021, she appeared on Marvelous' YouTube channel as a guest host for a No More Heroes 3 livestream.[24]
On 7 June 2021, hololive's Japanese Twitter account announced that Botan and Minato Aqua would appear as virtual ambassadors in a collaborative campaign with Red Bull. By buying a limited edition package of the brand on Amazon, participants could get promotional stickers featuring original artwork of either member. Stock of the product ran out the same day as the collaboration was announced.[25][26]
On 26 June 2021, Village Vanguard Twitter account announced that the members of hololive 5th Gen, would appear in limited edition goods with "Kemonomimi Cafe" as the theme.[27]
On 13 August 2021, hololive's Twitter account announced that 12 members including Botan (representing the Saitama Seibu Lions) would participate in a collaboration with the six professional Japanese baseball teams from the Pacific League, each team represented by two hololive members. The collaboration include promotional merchandise that could be brought, including hats, posters, keychains, among others, also a promotional match between ORIX Buffaloes vs SoftBank HAWKS scheduled for 3 October 2021 at the Kyocera Dome Osaka stadium called "hololive day."[28]
Fans
Her fanbase is officially called "Bodan"「ぼ団」,[29] but this term was gradually replaced by an alternative name, "SSRB." The mascot representing SSRB is an orb-shape tetrapod with cat-ears and something sticking out of the top. The base versions are ball bombs in grey, ivory or digital camouflage; each with a fuse on their heads.
Trivia
Botan's surname Shishiro「獅白」can be divided as such,

The first kanji Shi「獅」is the first kanji present in Shishi「獅子」which means "Lion."
The second kanji Shiro「白」means "white."
So her surname can be translated as "White lion."

Her favorite manga includes Parasyte, Naniwa Kin'yūdō, and Naruto.
She likes building PCs as a hobby and assembled the PC she uses for streams.

Botan was the one who helped Takanashi Kiara with her PC when she had to relocate, disassembling her PC for shipping and advising her to "protect her GPU with her life" due to an ongoing GPU shortage at the time.[30]

She cannot drink alcohol for health reasons, and unlike Lamy, Botan can't eat spicy food.
Botan enjoys video games, with first-person shooters (FPS) among her favorite genres. In particular, she prefers modern military-themed shooters, such as Call of Duty: Modern Warfare and Rainbow 6: Siege.

When throwing grenades in FPS games, Botan often punctuates her throw with a calm or playful utterance of the mimetic "poi" (ぽい). Used as an interjection, "poi" suggests tossing an object lightly, easily or without paying much attention, e.g. a ball of wastepaper into a nearby trash bin.
Botan is supposedly not very good at fighting games and racing games.
Horror games seemingly don't scare her at all, especially if the player character has a gun.

This trait led in part to Botan's recurring "horror date" collaboration live streams with fellow fifth-generation hololive member Yukihana Lamy. Botan's indifference to most horror-game scares plays against Lamy's susceptibility to them, with Botan gently teasing Lamy throughout once Botan determines what about the game provokes the most energetic response from her partner.
Resident Evil Village, a game that has managed to scare many, only managed to startle her once, when she was playing through the game again on a higher difficulty and she ran into an enemy who wasn't there on the first playthrough.[31]

She has an interest in ancient Chinese history and can speak Mandarin Chinese on a basic level.
Botan has some video editing skills, as demonstrated by the introduction in her debut stream, which was made by herself.
She has a large Russian-speaking fanbase. This is possibly due to her outfit's resemblance to an Adidas tracksuit typically worn by gopniks.
She is the fifteenth hololive member to join the official Hololive Subreddit as a moderator.
She is known for "attracting" rainy weather in her Minecraft streams, leading to viewers calling her Rain Girl (Ameonna, a Japanese yōkai associated with raining).
She is known for using shopping cart in acrobatic motorcycle game Trial Rising, which is referenced in one episode of the holo no Graffiti. Ironically, she occasionally struggles to drive when switching back to normal bikes.

She is known for making very ridiculous rides in theme park building game Planet Coaster, with rollercoasters inducing extremely high g-force on tourists being a common sight. The known highest g-force currently recorded on her rides is 96G.
Botan has jokingly threatened to put her fans for a ride on the high g rollercoaster after she found 9.2% of them have moderate feeling for her in a Twitter poll, this has become a joke among SSRB that misbehaving or not liking Botan could earn a ticket for the ride as punishment.

She is the organizer of the UsaKen Summer Fes, the second largest event in hololive Minecraft server after the Sport Festival, attended by 31 hololive members from all three hololive branches.
External Links
Further readings
References