Sougetsu Eli (蒼月エリ) was a female Japanese virtual YouTuber, a member of HoneyStrap.
Introduction Video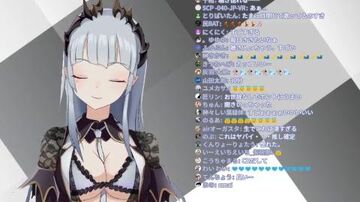 Eli's introduction.

Personality
She loved singing and was often referred to as the songstress of the group. When annoyed or drunk, she sometimes started talking like a delinquent.
She was an extreme fangirl of famous figure skater Yuzuru Hanyu and the group member Sekishiro Mico, often having trouble containing herself when talking about either one.
She liked to tease fellow group member Shimamura Charlotte, and has likened this to a elementary school boy teasing a girl they like. Because of the above and some of her other tendencies, she was sometimes called Eli-oji (old man Eli).
She was not very good at games outside Getting Over It and tended to hold the last place in the games played in the monthly HoneyStrap collaboration event.
She showed extreme academic ability by beating everyone else by a large margin in Inaba Haneru's academic performance test, VakaTuber.
History
Background
Her Twitter account was opened on 15 June 2018 while her YouTube channel was created on 8 July although she did not start her activities on her channel until her introduction stream which was live on 14 July.
2019
Retirement
On 19 May 2019, she announced that she would retire from HoneyStrap, citing personal reasons.[1] All the planned stream on that day was cancelled before the announcement was made.[2] She broadcast her final stream on 21 May.[3]
Trivia
She hosted a morning show every Friday with multiple different characters/personalities:

The weather lady (fired)
Her delinquent little sister Erika (the then current weather forecaster)
The fortune teller lady Fabulous Eli (told the daily fortune)
The senile physician Guriyama (demonstrated hand stretches and acupressure points)
External Links
Reference
↑ Eli_HNST. (2019, May 19). 【大切なお知らせ】
私、蒼月エリは、一身上の都合により、ハニーストラップを引退することになりました。
色々な経験をさせていただき、私自身とても成長できました。濃厚な10ヶ月間でした。楽しかったです。
応援してくださった皆様、メンバーのみんな、ななしさん、本当にありがとうございました。 [Tweet]. Retrieved from https://twitter.com/statuses/1130096460412809216
↑ HNST_official. (2019, May 19). 5/19 (日)の配信は全て中止とさせていただきます。
楽しみにしてくださっていた皆さま、大変申し訳ございません。 [Tweet]. Retrieved from https://twitter.com/statuses/1129818189393608704
↑ Sougetsu, E. [Eli Channel / 蒼月エリ【ハニスト】]. (2019, May 21) 今までありがとう。【蒼月エリ / ハニスト】 [Video File]. Retrieved from https://youtu.be/C9vjgG1R7M4/