Sukoya Kana (健屋花那) is a female Japanese Virtual YouTuber and member of Nijisanji.
A girl who works at a hospital. Many people have healed by her smile. She became a liver to cheer up and encourage people from all over the world. She's awkward, though, and doesn't like drawing blood.[1]
Introduction Video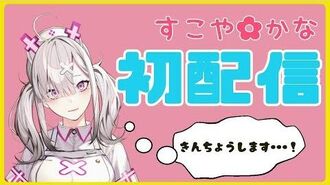 Kana's introduction.

Personality
Her easy-going manner of speaking and devilish laugh in between are very attractive. However, when it comes to streaming games, especially Identity V and Splatoon 2, her personality changes whereas she tend to start clicking tongue and cursing in-game.
Kana likes to interact with fans that she has created various twitter tags as her way of communicating with them as she is also open on taking their thoughts and suggestions about her works.
History
2019
Kana made her YouTube debut on 21 September.
On 25 December, she did a full-length impromptu yuri script reading with Shirayuki Tomoe.[2]
2020
On 31 January, together with Shirayuki Tomoe, they planned and wrote the script for their first official yuri voice drama that went on sale for a limited time at the official Nijisanji BOOTH store.[3][4]
On 21 March, Kana released her first solo cover song Interviewer in line with the celebration of Tulip-gumi's half year anniversary and her, reaching 150,000 YouTube subscribers.
On 11 April, she participated in Nijisanji's Singing Stream Relay.[5]
On 14 May, during her birthday stream she enabled her membership function on her channel and released a teaser of her new outfit to commemorate her 50,000 subscribers milestone.[6] She revealed her new Gothic Lolita outfit the following day on her YouTube channel.[7]
On 3 June, Kana debuted the 2.0 brushup of her Live2D model.
On 11 June, Kana and Shirayuki Tomoe's duo name (formerly Nijisanji Seiheki Konbi) is now officially called "Crossick" which represents their intersecting "sickness" and as well as their cross hairpins.[8]
On 28 June, announced during the ASOBINOTES ONLINE FES, Kana will take part of Bandai Namco Entertainment's new dance music project, DEN-ON-BU, to which she'll voice a character named Houou Karin (鳳凰火凛).
On 30 June, she revealed her new Spring-themed outfit during her Ring Fit Adventure endurance stream for her 200,000 YouTube subscribers milestone.  
On 4 September, it was announced that she would be getting her 3D debut. The model debut stream was held on 12 September.  
Events
Kana was assigned as the studio MC for the pre-live of the Shout in the Rainbow Nagoya Live on 26 February 2020. This also included a digest report of the earlier Sapporo, Fukuoka and Namba Lives.[9]
Kana participated in a free online music event "ASOBINOTES ONLINE FES" on 28 June 2020 along with Sister Cleaire and Hoshikawa Sara as special act.[10]
Fans
Kana calls her viewer すこや患者 (Sukoya Kanja, Sukoya's Patients).
Trivia
In her debut stream Kana proclaimed she has a vomiting fetish.
Kana is an actual medical professional and occasionally shares her medical and academic knowledge with her viewers.
She made the hashtag #手洗いうがいしたぞ健屋 (Sukoya, I've washed my hands and gargled) to encourage everyone to wash their hands and gargle. If you tweeted it with the condition that you have washed your hands and gargled, you can sometimes get likes and replies from her. It is also used for lunch menu updates.
She mentioned that the reason why her wrists are weak was because she used to take an IV drip from her wrist.
Kana can speak English relatively well, as observed in her English-only collaboration stream with Nijisanji ID member Hana Macchia.
Kana and Shirayuki Tomoe form the duo called "にじさんじ性癖コンビ" (Nijisanji Seiheki Konbi, Nijisanji's Fetish Duo). In their collaboration streams, the two are usually very flirty and intimate with each other, and even in their individual streams, they often talk about the other in a romantic way. Since many Livers ask the two if they are dating, Kana told Hayase Sou during a collaboration stream that her relationship with Tomoe doesn't need to be labelled; the only thing that matters is that they care for each other.
Other units within Nijisanji:
On April Fool's Day, she changed her Twitter profile icon and header into pitch-black images and set her name to "We had a fight" and her status to "It was Sukoya's fault, I'm sorry." It turns out that this episode was related to Nijisanji Seiheki Konbi and that they really had an actual fight the day before, but then decided to use it for April Fool's Day after making up.
A mini event of Emily from her favorite game, Identity V, has started in line with thanking all the medical workers on the global health care frontline. And as a medical professional, she wanted to make a contribution to the community through VTuber activities. As a result of that, she came up with the idea of a charity stream and donate all the amounts she received from the stream to the Japanese Red Cross Society. She plans to continue this activity in the future as well.
She stays a lot at Tomoe's place to the point that they can almost be considered cohabiting. She even have a dedicated "Sukoya box" at Tomoe's place where she keeps her belongings.
Kana and Shirayuki Tomoe were supposedly scheduled to stream Splatoon 2 but an off-collaboration was decided in a short period of time then later announced that a "Major Announcement" would take place instead. The description in her video, "If there's a beginning, there's always an end" has caused uneasiness towards their listeners while waiting for the stream to start. They then revealed that the management has requested them to pick a new duo name in consideration of their future projects.[11]
Harukawa Haru, a professional manga artist/illustrator, is the one responsible for their previous duo name whereas she called them Nijisanji Seiheki Konbi even before the duo was formed.  Her duo name suggestion "Crossick" was chosen as the new duo name.

She wrote the script for Crossick's second voice drama, Red-light District Parody, which was 20-minutes long.[12]
Kana held a gacha stream in attempt to complete Shirayuki Tomoe's DMM Scratch goods. Witnessing Kana getting hooked with the gacha, Tomoe tried stopping her by sending LINE messages but got her notifications turned off. Kana even took out her third credit card which she haven't told Tomoe about. In the end, she have managed to complete Tomoe's goods except for the signed board.

Tomoe sent her a 12,000 yen superchat with a comment saying, "I'll be scolding you later for turning off your LINE notifications."

She shares the same character designer with Seto Miyako of Nijisanji.
External Links
References
Community content is available under
CC-BY-SA
unless otherwise noted.