The Sandman Will Keep You Awake - The Loop
Play Sound
Associated pages
         This is a Japanese name; the family name is Suntory.

Suntory Nomu (燦鳥ノム, Santori Nomu) is a female Japanese Virtual YouTuber and a marketing effort of consumer drinks giant Suntory. Her name is intended to be a pun in Japanese that literally translates as "Drink Suntory".
Nomu's animation and video production is handled by Dwango's subsidiary IIV (Two Five).[2] Dwango are also the owners of Japanese video sharing service Nico Nico Douga and its software for Vtubers streaming Virtual Cast.
Greeting Poem
Nomu always start her videos with the following greeting poem (which it's a Tanka):
冷蔵庫からこんにちは!
(Reizouko kara konnichiwa!)
Greetings from the Refrigerator!
水のように清らかに
(Mizu no you ni kiyoraka ni)
Pure like the water
太陽のように皆を照らす
(Taiyou no you ni mina wo terasu)
Like the sun that shines upon All
サントリー公式バーチャルYoutuberの
(Santorii koushiki baacharu Youtuber no)
The Suntory's official Virtual Youtuber
燦鳥ノムです!
(Santori Nomu desu!)
Suntory Nomu!
Introduction Video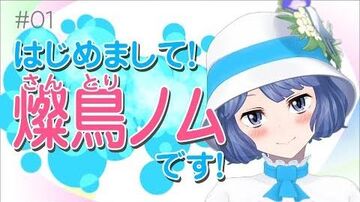 Personality
Nomu's personality is a reflection of Suntory's drinking products (particularly water). She is described as pure, clear and natural.
Nomu is known for her manners, especially her polite way of speaking.
Nomu's hobby (besides drinking Suntory's products) is the recitation of short poems called Tanka (短歌), as evidenced with her greeting. She is also proficient at dancing and singing.
Her favorite things are drinks (Suntory Products).
She cannot stand direct exposition to sunlight, and for that reason, she always carry with her a white with blue sun umbrella.
Trivia
Nomu is a Gijinka (擬人化) or Anthropomorphism of Suntory. For that reason she shares several features of the products Suntory sells and the company itself (such its creation date).
According to Suntory, Nomu's age is 120 years [3] (the same age of the Suntory company). Meaning she's Kaguya Luna and Pinky Pop Hepburn's Junior as Luna claims she's 144 and Pinky claims to be 120. Nomu had a special livestream for her 120th birthday on 01 February 2019.[4]
She named her fanbase as "NomuTomo" (ノム友, Nomu's Friends).
Nomu's hometown is the "Land of Water" (水の国 / mizu no kuni).[3]
During the Nico Nico Douga's Virtual Karaoke event on August 28th, 2018, there were two posters on the main wall of the virtual karaoke room. One of the posters advertised Alicia Solid or Niconi Ritai-chan (one of the default models of the Virtual Cast software), but the other one was an ad of Suntory's Mineral Water Tennensui (天然水) featuring Nomu. The Suntory poster advised the singers to hydrate themselves after singing, with the slogan 歌った後は、水分補給。(utatta nochi wa, suibun hokyuu) "After singing, Hydrate (yourself)".[5]
She shares the same illustrator as Kaela Kovalskia of Hololive Indonesia.
External Links
References