Suou Patra (周防パトラ) is a female Japanese Virtual YouTuber, a member of HoneyStrap.
Introduction Video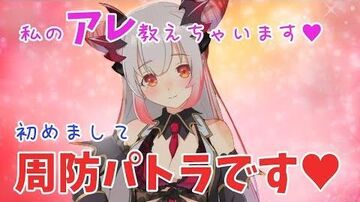 Patra's introduction.

Personality
She is known for her slightly annoying "anime" voice. She is a huge otaku, being mainly interested in moe anime and gal games. Her dream has been to produce songs for cute girls, which is why she started learning how to produce music. Due to the above she is sometimes called Pato-oji.
Her everyday life is quite eventful and she often tells stories about it. She stands out as having done relatively risky streams like showing her house and calling her real-life friends on stream.
She is very energetic. She likes to mainly play FPS games, but recently got hooked to Minecraft after being introduced to it by Shimamura Charlotte.
She has been very hard working with producing songs, playing games and chatting with other members. This has resulted in the group members and viewers getting worried for her health, wondering if she sleeps enough.
History
Background
She debuted on YouTube with a small introduction on 14 July 2018.[1]
2020
On 10 July 2020, she announced on her Twitter account the demonetization of her channel without any warming.[2]
Four days later on 14 July 2020, she was able to monetize her videos again. [3]
Trivia
She does a weekly ASMR and has a week-end radio show "Patoraji" where she reads messages from listeners and interviews guests.
She has a running joke where she gets fired every now and then for acting without the manager Haineko Nanashi's permission. Currently she refers to herself as the 10th Suou Patra.
Due to producing most of the group's songs she is sometimes called "Akimoto Patra" as a reference to the AKB48's producer Akimoto Yasushi
Her parents found out about her virtual YouTuber activities after her mother hired a private detective.
On 08 December 2018, to celebrate 50000 subscribers, she offered to send out 100 Christmas cards to the first 100 people who filled out a form.
External Links
References
↑ Suou, P. [Patra Channel / 周防パトラ 【ハニスト】] (2018, July 14) 【自己紹介】初めまして。周防パトラよ♪【周防パトラ / ハニスト】[Video File] Retrieved from https://youtu.be/AZMJG5ulypo
↑ Patra_HNST (2020, July 10) お気づきの方もいると思うのですが先ほど23時くらいに 収益剥がされました。 特に警告もきてない中のいきなりだったので・・;; メンバーシップなど表示されてないと思うのですがごめんなさい・・![Tweet] Retrieved from https://twitter.com/Patra_HNST/status/1281600877392850945
↑ Patra_HNST (2020, July 14) 収益化戻りましたあああ...;;[Tweet] Retrieved from https://twitter.com/Patra_HNST/status/1283223029011501056
Community content is available under
CC-BY-SA
unless otherwise noted.