This is a Japanese name; the family name is Suzuhara.
Associated pages
Suzuhara Lulu (鈴原るる) was a female Japanese Virtual YouTuber affiliated with NIJISANJI.
Introduction Video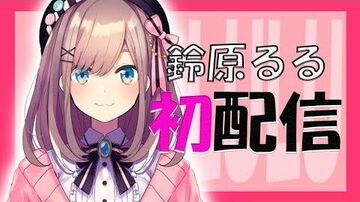 Profile
A second-year girl who goes to an all-girls university. She's from a family of honorable origin, and is a so-called "sheltered girl". To fix her ignorance of the world, she started streaming. She doesn't intend to be behind on trends, and likes to try things out of curiosity. She likes singing, and wants her voice to reach many people.[1]
Personality
Lulu is very soft-spoken and speaks politely, yet has some odd personality quirks. Lulu will turn to stare into the camera and will address the viewer directly at times of duress or failure. She once claimed that eyeballs can grow back, and that she could drink lava. Whether this is just a joke or a hint that she might not be human is unknown. She has a love for games made by FromSoftware and will regularly stream them. Lulu also enjoys the Rhythm Heaven series, despite her notably poor sense of rhythm. She will often host collabs with Debidebi Debiru, who refers to her as 'art student.' She very rarely gets angry at games and speaks in a soft, polite voice. She has both a unique greeting and farewell, being 'konlulu~' and 'otsululu~' respectively.
History
Background
Her channel was created on 20 March 2019, her Twitter account was also created this month. She debuted on YouTube on 1 May.[2]
On 29 August, during a stream she debuted her second 2D costume.[3]
2020
On 23 March, she published in her Twitter account that she would get her 3D model.[4]
On 27 March, she debuted her 3D model in a stream on YouTube.[5]
On 7 April, she announced on Twitter that she would get her third 2D costume.[6] She revealed her costume during a stream on YouTube the same day.[7]
On 18 April, Lulu reached 300.000 subscribers on her YouTube channel.
On 19 August, Lulu reached 400.000 subscribers on her YouTube channel.
2021
On 6 February, Lulu reached 500.000 subscribers on her YouTube channel.
On 8 May, she debuted her fourth 2D costume, along with a Live2D update.
On 23 through 24 June, Lulu announced that she would be graduating from NIJISANJI on 30 June during her birthday countdown stream.[8]
Retirement
On 30 June, Lulu held her graduation stream, citing instances of harassment such as a "letter of challenge" (the exact nature of which she never elaborated on) as her primary reason for graduating. While company management contacted the police and the initial letter incident was seemingly resolved, continued problems with online and "direct" harassment resulting in more disruptions in her streaming activities led to Lulu making the decision to retire as a VTuber as she felt she could no longer give her activities one hundred percent like she wanted and also didn't want frequent breaks to cause further worry for her fans.
On her final stream, she showed off her various outfits with different hairstyles, and revealed early artwork and alternative designs her illustrator had made for her. She expressed her love and thanks to her fans, friends, coworkers and the staff for their help, support and for accompanying her for the two years she spent in NIJISANJI. Lulu said she loves NIJISANJI and VTubers, saying how the job is very enjoyable and that she would continue to be in there but now as part of the audience.[9] At the peak of her stream, she had an audience of 186.000 viewers.
Discography
Main page: Suzuhara Lulu/Discography
"Lize Lulu Link" Theme Song / LINK・LINK
with Lize Helesta
14 March 2021    

"LINK・LINK"
"Ato Ichibyou de" (あと1秒で)
"Ai ga Nakucha" (愛がなくちゃ)

External links
Digital Release
IMAGINATION vol.3
Various artists cover compilation
24 October 2020    

"Star Love Ration" (スターラブレイション)
feat. Enomiya Milk
"Kibun Joujou↑↑" (気分上々↑↑)
feat. Suzuka Utako
"Neee?" (ね~え?)
feat. Suou Patra
"Sobakasu" (そばかす)
feat. Suzuhara Lulu
"GLAMOROUS SKY"
feat. Souya Ichika
"Koi no Tsubomi" (恋のつぼみ)
feat. Tsunomaki Watame
"Kaze Fukeba Koi" (風吹けば恋)
feat. Natsuiro Matsuri
"I WISH"
feat. Inuyama Tamaki
"Joifuru" (じょいふる)
feat. Enomiya Milk, Suzuka Utako
"Motteke! Sailor Fuku" (もってけ!セーラーふく)
feat. Suou Patra, Suzuhara Lulu
"365 Nichi no Kamihikouki" (365日の紙飛行機)
feat. Inuyama Tamaki, Natsuiro Matsuri
"Hashire!" (走れ!)
feat. Souya Ichika, Tsunomaki Watame
"Ōgoe Diamond" (大声ダイヤモンド)
feat. All Participants (CD exclusive)

External links
Digital Release • YouTube • Official Website
Events
Trivia
Color:

#D7AFA8

[14]
Lulu claims she plays games more seriously whenever she takes her hat off because it's a limiter. She says it's 50 kilograms (110 lbs) and removing it lets her move more freely. This joke was taken further during the reveal of her second 2D costume, where she removes her hair accessory and says it feels like it weighs about 60 kilograms (132 lbs).[15] The weight was taken even further in the reveal of her new outfit, where she claimed it weighed in at about 500 kilograms (1102 lbs).
Despite not being easily scared, she is very scared of spiders.
During a NIJISANJI live tour, Lulu addressed the audience by saying "there's so many humans", much to the confusion of fellow NIJISANJI VTuber Takamiya Rion.[16][17]
Her first five streams of Sekiro were played with lag (she didn't have a second monitor and had to watch her own capture footage). While she did eventually get a second monitor, it was only after she beat Lady Butterfly (a boss considered by many to be the first majorly difficult boss in the game) a feat that amazed both her audience and fellow NIJISANJI members.
She once streamed continuously for 21 hours. Beginning at 2020 February 17 6:13 PM JST with the original PS3 Demon's Souls for nearly 11 hours, and immediately continuing with Ring Fit Adventure for over 10 hours.
In the "NIJISANJI Imagination Tournament" she was quick to not only reach the finals in the entire event, but also regarded by the hosts as the villain of the "arc", remarking that she would always take the opponent's first attack to gauge their strength before engaging in a long-drawn-out battle for the sheer fun of it before killing/beating them out of boredom or by overestimating their power. This depiction of Lulu (and the tournament in general) was so popular among fans that it garnered two chapters of NIJISANJI fan comics, the second one being illustrated by the mangaka of Goblin Slayer, Kōsuke Kurose.
External Links
Media
Further readings
References