Associated pages
TAIDA (怠惰ちゃん) is a female Japanese Virtual YouTuber living in Germany who debuted on 8 March 2020.
Introduction Videos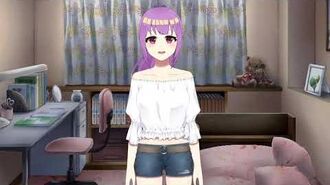 TAIDA's introduction video.

History
Biography
TAIDA is from Japan and came to Germany because of her father's work.[1]
Background
Her YouTube channel was created on 7 March 2020. Her introduction video was uploaded one day later on 8 March.
On 2 May 2020 she started her first livestream on YouTube.
She streamed both on YouTube and on Twitch, but announced she would only stream on YouTube starting from 9 November.[2]
Trivia
Taida means lazy in Japanese but that doesn't mean that she doesn't do anything. Since she lives in Germany she is very interested in that country so that she often deals with the German language and culture.
She also likes playing video games and singing.
She is a little shy but still open-minded.
External Links
References