This is a Japanese name; the family name is Takane.
Associated pages
Takane Lui (鷹嶺ルイ) is a female Japanese Virtual YouTuber associated with hololive. She debuted as part of its sixth generation under the name of "Secret Society holoX" alongside La+ Darknesss, Hakui Koyori, Sakamata Chloe and Kazama Iroha.
Introduction Video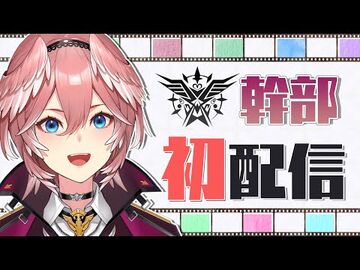 Profile
The executive officer of Secret Society holoX.
As holoX's point of contact and the one in charge of external affairs, she is the de facto leader of the group, handling matters that the founder cannot.
While she may seem aloof and standoffish at first glance, she is a compassionate person who cares a lot for her subordinates.
Unfortunately, she is also rather prone to screwing up in crucial moments.
History
Background
Takane Lui's YouTube channel was created on 12 September 2021. Her Twitter account was also created in September 2021. She was first revealed as part of holoX, the sixth generation of the Japanese branch of hololive, in an introductory video[3] posted on 26 November 2021 at noon JST. She made her first tweet at the same time, asking 「みなさ~ん、待ったかね???」 - "Every~one, will you wait for me???"[4] She was in turn welcomed by Takanashi Kiara into "holotori," the hololive birds.
Lui debuted on 27 November 2021 at 9pm JST, she was the second -holoX- member to debut. On the same day, she released her first official cover song "EYE" by Kanaria.
2021
On 5 December, Lui reached 300,000 subscribers on YouTube.[5]
On 14 December, Lui opened her channel membership feature.[6]
On 28 December, hololive's Twitter account announced that Nene and the sixth gen members would get "new year" costumes.[7]
2022
On 1 January, Lui debuted her second 2D costume, a furisode to celebrate the new year. In this costume Lui got a new hairstyle using a side curly ponytail to the right, above her ponytail Lui can also wear a small black hat decorated with feathers in the same color, the hat also has a golden hawk decoration to the right and some flowers. She wears a single earring on her left ear, her furisode is stripped blue and black, in the blouse it is blue to the right and black to the left, as the left side is folded over the right side the black side is dominant on her top, the skirt is also folded in the same direction however as the colors are inverted, blue is the dominant color in her skirt, the edges of the furisode are wavy, black for the sleeves, white for the middle open section and black and white at the end of the it, the inner part of the furisode has a feathers pattern. The furisode has a brown corset decorated with a long red ribbon, and her shoes are white and brown. Lui can also wear a white fluffy piece of cloth.[8]
On 11 January, Lui reached 400,000 subscribers on her YouTube channel during a stream of "Pokémon Shining Pearl."[9][10]
Mascot and Fans
Her fans are known as "Lui tomo"「ルイ友」(Lui Friend).
Her partner is a fat frogmouth called "Ganmo"「がんも」. He is Lui's secretary. On his head there are two white baby birds, "Tsumire" 「つみれ」 (above) and "Tsukune"「つくね」, but they are not related.
Trivia
Name
Her surname, Takane, is written with the kanji 「鷹嶺」, meaning "hawk" and "summit." "Lui" is written in katakana, often used for foreign names.

Her name shares similarities to that of Takanashi Kiara, who also uses a kanji surname including "taka" meaning "hawk," and a katakana given name. However, Takane Lui uses the standard kanji for "taka."
Likes and dislikes
Lui enjoys spicy food, pickles and red wine.
Her favourite games include Final Fantasy 13 and 14, Ace Attrony, Danganronpa, The Idolmaster franchise, dating sims (Tokimeki Memorial 2 in particular) and FPS games in general.
Her favourite anime are Code Geass, Psycho-Pass, Ouran High School Host Club, Spy x Family, Nagi no Asukara, Tokyo Ghoul and Death Note.
Lui dislikes pointy objects, but mainly when they are pointed at her.
Lui doesn't like horror games and gets scared extremely easily.

In an attempt to overcome her fears, Lui streamed Outlast on December 2nd 2021 with the added challege of no screaming. The first attempt failed even before she managed to start the game when she knocked over her glass of water. Ending the stream within just over 6 minutes.
Right after that Lui started a second attempt, but failed as soon as she ran into a flickering light, ending the attempt just before hitting 9 minutes.
The third attempt ended at around 11 minutes when Lui encountered a corpse dangling from the ceiling, causing her to shriek in terror.
Miscellaneous
Lui shares her designer with the "bewitching aura drifting snow witch" design announced for audition back in 20 March 2020, that ultimately went unused.[11][12]
As a hawk, Lui is the fourth "bird themed" VTuber to join hololive (fifth if one counts Oozora Subaru, who developed a duck-theme post-debut) after Takanashi Kiara (phoenix), Pavolia Reine (peacock), and Nanashi Mumei (owl).
Lui started her debut stream with the song "One Night Carnival" by Kishidan but she went so far and got scolded by her manager.
External Links
Media
Further reading
References