This is a Japanese name; the family name is Tenjin.
Tenjin Kotone (天神子兎音) is a female Japanese Virtual YouTuber.
Introduction Video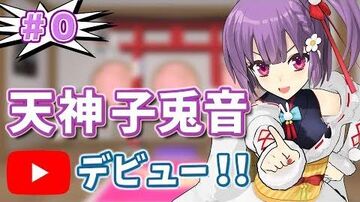 Kotone's introduction.

Personality
Events
Since 12 April 2019, she hosts a monthly variety show in the REALITY app called God Summit (神々さみっと Kamigami Samitto) which is a collaboration with her co-hosts Kazamiya Matsuri, Sakura Miko, and Sister Cleaire. There are currently five episodes in total, with some of the episodes archived in their respective YouTube channels, with one episode archived in REALITY Studio channel.
Trivia
According to her official Website, she is originally a god that was enshrined in an ancient shrine in Kyoto about 500 years ago, granting the humans many different blessings, but was forgotten as time went by. 
Her character designer is Noizi Ito which is known as the artist and character designer for Shakugan no Shana and Haruhi Suzumiya novels.
She has released various covers and original songs. She has collabed with other VTubers on some of her covers, as well, such as Oda Nobuhime, Tokino Sora, Sasugano Ruki and AMENOSEI.
She frequently collabs with various other VTubers, such as Tokino Sora, Natsuiro Matsuri, Yuzuki Choco, and more.
She has a darker alter ego named "KOTONE".
While remaining independent, she announced on 11 November, 2020 that she is now signed under Universal Music, and that her first major single would be released on 23 December, 2020.
She appeared as a guest on AZKI's radio series 「AZKi's World Pioneering Radio」(aka AzuRadio).
She has done multiple collabs with voice actress Yû Serizawa.
She often plays APEX, Mario-themed games, Minecraft (often in collabs with Sora), and various other games. She also often makes short clips and music.
External Links
Community content is available under
CC-BY-SA
unless otherwise noted.