Tokino Sora (ときのそら, 時乃そら, 時乃空, Lit. Sky of Time) is a female Japanese Virtual YouTuber and the founder member of hololive.
Introduction Video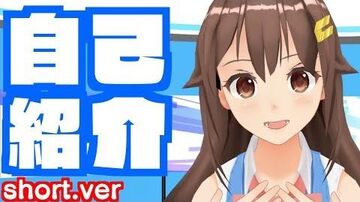 Sora's introduction.

Personality
Tokino Sora was born on 15 May 2000 in Tokyo. She is an easy-going, happy and comforting person whose personality has led many fans to call her "Tokino Sora Mama" (ときのそらママ) because of her motherly attitude. Within hololive, she is the member who most closely fits the image of a "proper" idol, since most of the other members have become infamous for causing mayhem and goofing off.
Sora loves horror games and she does not get scared by them. She also loves Rhythm games and live streaming for her fans. She is not very good at rote learning and Oogiri (a game consisted of giving funny answers to several themes).
Because of her musical and dancing talent, she has published several covers, including collaborations with fellow VTubers and even the release of a debut album with a major record label. She dreams of holding a concert at Yokohama Arena.
A-Chan and Ankimo
Sora is aided on her videos by her two friends A-chan and Ankimo.
Yuujin A (友人A, Friend A) better known as A-chan (えーちゃん) is the person in charge of the technical aspects of Sora's live streams. She was originally spoken about or featured in a few videos but only illustrated as a roughly-drawn woman's face with glasses and a hair tie. In July 2018 she received a full design, and in November 2018 A-chan started her own Twitter account. On 7 September 2020 she got a new 3D model, the same date as Sora's third anniversary debut.
Ankimo (あん肝) is walking Teddy bear who accompanies her and mimic her movements during her livestreams. He is frequently depicted as being buried to the fact that, due to technical difficulties made him to clip into the ground and he looks like he was buried on the floor.
History
Background
She opened her Twitter account on 29 June 2017 while her YouTube channel was created on 7 September 2017 and she started streaming on the same day.[4]
2017
On 17 October, she received her second 3D model, with a new hairstyle, with curls to the sides which became her standard and most recognized hairstyle, she also debuted her background.[5]
On 26 October, to celebrate 100 subscribers, she received another model update, her blue hair pin was changed to yellow, the yellow ribbon on her blouse was changed to red and in which was described by A-chan to be a "camera update" Sora received jiggle physics.[6]
On 31 October, her mascot Teddy bear "Ankimo" made its first appearance, Sora also appeared in a recolor of her standard model with bats to celebrate Halloween.[7][8]
On 25 December, she received another outfit recolor, to celebrate the holidays with her clothes being mostly red, with a green ribbon.[9]
2018
On 5 January, she debuted another recolor, in this costume her clothes have a sparkling effect, complemented by a red had with a star and an interrogation sign on top.[10]
On 14 February, she received a new costume, a casual outfit, with a pink blouse, skirt and a fuzzy brown coat.[11]
On 18 May, she teased on her Twitter account an annoucement for her next stream, the same day she debuted her third 3D model, in this model her outfit is udpated, now with a star hairpin where her previous yellow one used to be, and a new one on the left side, probably the most prominent change was the change in her eye color from brown to blue.[12][13] This model later received a costume update with even more ornaments, this costume is mainly used for Sora's concerts.[14]
On 25 December, her new 3D model, received a color variant to celebrate the holidays, similar to her previous model.[15]
On 27 December, she showcased another color variant, this time as a separate character named "Yuki no Sora", with light blue hair and dress and a snowflake hairpin on the opposite site of Sora's star hairpin. Originally Yuki didn't talk but she was reintroduced on another video later.[16][17]
2019
On 1 January, she debuted a new 3D costume, a kimono in celebration of the new year.[18]
On 10 January, she announced that she would be releasing her first album Dreaming on 27 March 2019.[19]
On 27 March, she debuted her first studio album titled Dreaming!
On 12 August, she announced on her Twitter account that she would get a swimsuit costume, on 14 August she debuted this costume during a stream.[20][21]
On 6 October, she held her first concert "Dream!"
On 19 December, she announced on her Twitter account preorders for her photo book "Sorabi Yori" (そらびより) and on 27 December she announced her new mini album "My loving" it is worth noticing that the official artwork of the album features Sora with her original brown eyes.[22]
2020
On 24 January along with the other hololive girls up to the third generation, she debuted an idol outfit that matches with the rest of the girls at hololive's 1st fes. Nonstop Story.[23][24] As she previously had another idol outfit.
On 14 February her photo book "Sorabi Yori" (そらびより) was released.[25]
On 24 March, she released her new mini album "My loving".[26]
On 5 September, she announced on her Twitter account a conmemorative stream, celebrating the third anniversary since her debut.[27] On 7 September, she held her conmemorative stream, remembering her evolution through the years, finally she debuted her fourth 3D model, her hair and eyes are more detailed, her hair also have improved movement, her updated outfit now include golden ornaments on the neck of her blouse, on her ribbon and shoes, the white "tail" of her skirt now have stars on the tips and the parts that go to the sides now resemble wings.[28]
Events
On 27 November 2019, she made an appearance in hololive's collaboration with Azur Lane as one of the characters, alongside Nakiri Ayame, Ookami Mio, Natsuiro Matsuri, Murasaki Shion, Minato Aqua and Shirakami Fubuki, she was available from 27 November to 17 December.[29]
On 28 January 2020, it was announced on Dengekionline that she would make an appearance in the game Neptunia Virtual Stars as one of the VTuber guest characters alongside Roboco, Sakura Miko, Shirakami Fubuki, Minato Aqua, Yuzuki Choco, Inugami Korone, Shirogane Noel and Houshou Marine.[30]
Mascot and Fans
As previously stated her mascot is a Teddy bear named "Ankimo".
Her fanbase is officially called "Sora- tomo" (そらとも) likely from "Sora no tomodachi", or Sora's friends.
Trivia
On 17 December 2018, she participated with other VTubers including Ginga Alice in the AR event Tubeout! at Tower Records Shibuya store.
On 21 February 2019, she announced that she would be part of the main cast of the upcoming TV Tokyo dorama Watanuki-san Chi No along with Hibiki Ao, and newcomer Sarugakucho Futaba. She was also confirmed to appear in its second season.
She likes drawing, singing, playing the piano, sweet things and cats, she claims to be bad at sports like running and swimming.
Her favorite subject are Japanese and music but she claims to be bad at English and science.[31]
External Links
References
Community content is available under
CC-BY-SA
unless otherwise noted.