This is a Japanese name; the family name is Tokoyami.
Associated pages
Tokoyami Towa (常闇トワ) is a female Japanese Virtual YouTuber associated with hololive, debuting as part of its fourth generation of VTubers alongside Tsunomaki Watame, Kiryu Coco, Amane Kanata and Himemori Luna.
Introduction Video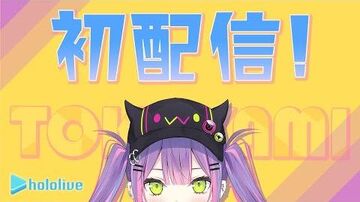 Profile
hololive.hololivepro.com
"Sup, groupies!"
A young devil who is visiting human society to gain experience and develop her skills. But instead of studying, she became addicted to video games! After learning about a tool for communicating with humans called "streaming," she's trying it out to help with her studies. [7]
hololive.tv
In order to become an archdemon, she joined the human society for further studies.

She should be studying but is now addicted to gaming. She realized that the method commonly known as "streaming" is also a way to communicate with humans. She is now in the "trial and error" process.[8]
Personality
Despite being a Devil, Towa is a sweet, kind-hearted, down to earth girl, which has caused many of her fans to insist that she is an Angel instead. Towa usually gets annoyed by this and insists she is a Devil and does not like angels. She doesn't truly mean it as she likes Kanata. Her streams are usually wholesome and relaxing, though when subjected to the playful lusts of other VTubers, she becomes one of the few holoIdols to strongly become a straight man and be genuinely repulsed by their actions. She really enjoys herself while streaming and often get hyped when playing FPSs, but she might rage if she dies in said games. She also doesn't like horror games as she gets scared fairly easy.
Towa also likes singing and she is well known for her powerful vocal range.
She greets her viewers with "Ohayappi" (おはやっぴー) or "Konyappi" (こんやっぴー) and she says goodbye with "Otsuyappi" (おつやっぴー).
History
Background
Towa was introduced along with the rest of the fourth gen on 25 December 2019.[9] Her Twitter account was created on November 2019, she made her first tweet on 31 December,[10] her YouTube channel was created on 4 December and her debut stream was on 3 January 2020.
2020
On 22 July, she announced on a stream on YouTube and latter on her Twitter account that she would get her 3D model, this was previously teased during Himemori Luna's 3D debut.[11][12]
On 26 July, she debuted her 3D model, being the last of her generation to do so.[13]
On 18 December, Towa reached 400,000 subscribers on her YouTube channel during a singing endurance stream. Also on this date at the end of the stream she announced that her model would be updated to the 2.0 version.[14][15][16]
On 20 December, she debuted the 2.0 version of her 2D model during a stream, the most prominent change is that Towa can now remove her white jacket and Bibi her hat, among her other updates her face can turn better in different angles, while also gaining some new expressions like a surprised face.[17]
On 29 December, hololive's Twitter accounts announced that eight of their members would get "New year" costumes, Towa being one of them.[18]
2021
On 1 January, she debuted her second 2D costume, a new year kimono during a stream, this costume has two different hairstyles one with a side ponytail and another with short hair, the flowers ornament can be used with either hairstyle.[19]
On 8 February, Towa reached 500,000 subscribers on her YouTube channel during a singing endurance stream, making her the 32nd hololive member to reach this milestone.[20][21]
On 15 February, hololive's Twitter account announced that the members of the 4th generation would get their 3D idol costumes.[22] Later the same day Towa debuted her 3D idol costume.[23]
On 25 February, Towa released her first original song "Palette" during a stream.[24][25]
On 18 March, Towa debuted the official MV of her original song "Palette."[26]
On 30 April, Towa reached 600,000 subscribers on her YouTube channel during an endurance singing stream.[27] On the same day, hololive's Twitter account announced that Towa, Kanata and Watame would get their third 2D costumes.[28]
On 4 May, Towa debuted her third 2D model, a new set of casual clothes, with this costume Towa got two new hairstyles one with loose hair with a small bun on the side and the other with twintails but this time they are way more curly, she now wear a beret but unlike her Bibi hat this one doesn't have a face, the beret still retains the horns and the two badges however one is gray instead of yellow, Towa uses a white blouse decorated with a black ribbon along with black suspenders and skirt bellow the chest, her outfit also includes a removable gray sweater decorated with black and purple ribbons and a small Bibi face, her socks are white and her shoes are black, on her right thigh Towa has the tatoo of a heart with wings. The costume also include optional glasses.[29]
On 30 June, she reached 700,000 subscribers on her YouTube channel during an endurance singing stream.[30][31]
On 9 August, Towa debuted a new short hairstyle using her third costume to showcase it.[32]
On 5 September, Towa reached 800,000 subscribers on her YouTube channel during an endurance singing stream.[33]
Discography
Main page: Tokoyami Towa/Discography
Madoromi
with Amane Kanata
14 October 2021    

"Madoromi" (マドロミ)
"Madoromi" (instrumental)

External links
Digital Release • Music Video
Events
On 13 August 2021, hololive's Twitter account announced that 12 members including Towa (representing the Hokkaido Nippon-Ham Fighters) would participate in a collaboration with the six professional Japanese baseball teams from the Pacific League, each team represented by two hololive members. The collaboration include promotional merchandise that could be brought, including hats, posters, keychains, among others, also a promotional match between ORIX Buffaloes vs SoftBank HAWKS scheduled for 3 October 2021 at the Kyocera Dome Osaka stadium called "hololive day."[34]
On 9 September 2021, hololive's Twitter account announced a sponsored stream for Square Enix's game "Deep Insanity ASYLUM," presented by Towa and Kanata, during said stream both sang the games song "Madoromi" the official music video of the song was later released on hololive's Japanese channel on 14 October 2021.[35][36][37]
Mascot and Fans
She claims her hat is a pet guardian named Bibi which watches over her in the human world.[38][39][40]
Her fanbase is officially called "Kin of Tokoyami" while in Japanese they are called " Tokoyami Kenzoku"「常闇眷属」but Towa calls her fans just Kenzoku or Kin.
Quotes
"Repeat after me! Say! Yo! TMD! TMD! Towa-sama Maji Daitenshi! ...Ah, wrong... *panicking*"[41]
Trivia
Towa's surnanme Tokoyami「常闇」can be divided as such.

The first kanji「常」can be read as "Tsune/Toko/Jou" which means "Always/Everlasting /Endless."
The second kanji「闇」can be read as "Yami/Kura/An" which means "Darkness."
So her surname can be translated as "Everlasting Darkness."

She pronounces "Thank you" as "TenQ" in English, the final portion of her streams where she reads Super Chat donations is known as "TenQ TIME" (てんQ TIME).[42]
She likes to say the phrase "Oh my god!" when surprised.
Her voice seems to get even deeper when she just wakes up, to the point can be mistaken for a male voice.[43]
Coco tends to call Towa "mentally challenged" due to her not appearing in Asacoco commercials and, ironically, acting much less deranged than the rest of 4th generation. According to Towa herself, she has a tight schedule, has to attend the university and to sleep well; this is why she rarely comes in contact with Coco.
Towa is a big Nintendo fan, her favorite Nintendo franchises are Yoshi and Pokémon.
Towa's name has been used to create some puns by overseas fans, the most notable being "Towaiting" used by her fans instead of "waiting" previous to the start of her streams, on a minor note fans also used "Towater" during her 3D model debut whenever she drank water.
External Links
Media
Further readings
References