This is a Japanese name; the family name is Tokoyami.
Associated pages
Tokoyami Towa (常闇トワ) is a female Japanese Virtual YouTuber associated with hololive, as part of its fourth generation of VTubers alongside Tsunomaki Watame, Kiryu Coco, Amane Kanata and Himemori Luna.
Introduction Video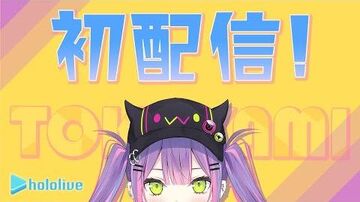 Towa's introduction.

Personality
Despite being a Devil, Towa is a sweet, kind-hearted, down to earth girl, which has caused many of her fans to insist that she is an Angel instead. Towa usually gets annoyed by this and insists she is a Devil and does not like angels. She doesn't truly mean it as she likes Kanata. Her streams are usually wholesome and relaxing. She really enjoys herself while streaming and often get hyped when playing FPSs, but she might rage if she dies in said games. She also doesn't like horror games as she gets scared fairly easy.
Towa also likes singing and she is well known for her powerful vocal range.
She greets her viewers with "Ohayappi" (おはやっぴー) or "Konyappi" (こんやっぴー) and she says goodbye with "Otsuyappi" (おつやっぴー).
Profile
In order to become an archdemon, she joined the human society for further studies.
She should be studying but is now addicted to gaming. She realized that the method commonly known as "streaming" is also a way to communicate with humans. She is now in the "trial and error" process.[7]
History
Background
Her Twitter account was created on November 2019, she made her first tweet on 31 December,[8] her YouTube channel was created on 4 December and her debut stream was on 3 January 2020.
2020
On 22 July, she announced on a stream on YouTube and latter on her Twitter account that she would get her 3D model, this was previously teased during Himemori Luna's 3D debut.[9][10]
On 26 July, she debuted her 3D model, being the last of her generation to do so.[11]
On 18 December, Towa reached 400,000 subscribers on her YouTube channel during a singing endurance stream. Also on this date at the end of the stream she announced that her model would be updated to the 2.0 version.[12][13][14]
On 20 December, she debuted the 2.0 version of her 2D model during a stream, the most prominent change is that Towa can now remove her white jacket and Bibi her hat, among her other updates her face can turn better in different angles, while also gaining some new expressions like a surprised face.[15]
On 29 December, hololive's Twitter accounts announced that eight of their members would get "New year" costumes, Towa being one of them.[16]
2021
On 1 January, she debuted her second 2D costume, a new year kimono during a stream, this costume has two different hairstyles one with a side ponytail and another with short hair, the flowers ornament can be used with either hairstyle.[17]
On 8 February, Towa reached 500,000 subscribers on her YouTube channel during a singing endurance stream, making her the 32nd hololive member to reach this milestone.[18]
On 15 February, hololive's Twitter account announced that the members of the 4th generation would get their 3D idol costumes.[19] Later the same day Towa debuted her 3D idol costume.[20]
On 25 February, Towa released her first original song "Palette" during a stream.[21][22]
On 18 March, Towa debuted the official MV of her original song "Palette".[23]
Discography
Singles
AsuiroClearSky
as hololive IDOL PROJECT    
Release Date
18 February 2021

Track List

"AsuiroClearSky" (あすいろClearSky)
"AsuiroClearSky" (instrumental)

External links
Digital Release • Music Video
Mascot and Fans
She claims her hat is a pet guardian named Bibi which watches over her in the human world.[24][25][26]
Her fanbase is officially called "Kin of Tokoyami" while in Japanese they are called " Tokoyami Kenzoku"「常闇眷属」but Towa calls her fans just Kenzoku or Kin.
Trivia
She pronounces "Thank you" as "TenQ" in English, the final portion of her streams where she reads Super Chat donations is known as "TenQ TIME" (てんQ TIME).[27]
She likes to say the phrase "Oh my god!" when surprised.
Her voice seems to get even deeper when she just wakes up, to the point can be mistaken for a male voice.[28]
Coco tends to call Towa "mentally challenged" due to her not appearing in Asacoco commercials and, ironically, acting much less deranged than the rest of 4th generation. According to Towa herself, she has a tight schedule, has to attend the university and to sleep well; this is why she rarely comes in contact with Coco.
Towa is a big Nintendo fan, her favorite Nintendo franchises are Yoshi and Pokémon.
Towa's name has been used to create some puns by overseas fans, the most notable being "Towaiting" used by her fans instead of "waiting" previous to the start of her streams, on a minor note fans also used "Towater" during her 3D model debut whenever she drank water.
External Links
Media
Further readings
References
Community content is available under
CC-BY-SA
unless otherwise noted.