The Sandman Will Keep You Awake - The Loop
Play Sound
         This is a Japanese name; the family name is Tsukino.

Associated pages
Tsukino Mito (月ノ美兎) is a female Japanese Virtual YouTuber affiliated with NIJISANJI as its first generation of NIJISANJI members along with Yuki Chihiro, Elu, Higuchi Kaede, Shizuka Rin, Shibuya Hajime, Suzuya Aki, and Moira. A well-dressed and well-spoken 16-year-old high school "iinchou" (委員長, class president). She is in the "JK gumi" (high school girl gang) along with Shizuka Rin and Higuchi Kaede.
Introduction Video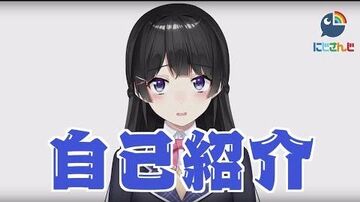 Profile
Mito is a sophomore high school student. She has a tsundere personality nature while trying to be a serious class president. Even though she does her best, she slightly feels her efforts are in vain. She often wonders if she spoke too much after giving a speech and feel depressed afterward.[2]
Personality
In stark contrast to her position as 'NIJISANJI Queen' and being the YouTuber that made NIJISANJI into the biggest VTuber company in Japan, Mito is far from what she may appear or her reputation might suggest. Despite her attempts to keep up appearances, the ridiculous "kusoge" (クソゲー low-end/crap games) that she plays on her streams, her strange movie choices, and the stories of silly things that she has done in her life often works against those attempts. She has an uncanny skill to take anything the wrong way and make it completely different (her Animal Crossing: New Horizons streams have become something of a soap opera with relationships, betrayal, and heartbreak). She also insists that people draw more lewd fanart and Ero Manga of her. Mito also has a surreal sense of humor that manifested primarily through her bizarre April Fool's Day video.
History
Background
Mito's YouTube channel was created on 1 February 2018, and her Twitter account also created in the same month. Her first tweet was made on 1 February 2018.
2018
On 9 August, Mito reached 250,000 subscribers on her YouTube channel.[3]
2019
On 3 January, Mito reached 300,000 subscribers on her YouTube channel.[4]
On 25 May, Mito reached 350,000 subscribers on her YouTube channel.[5]
On 19 October, Mito reached 400,000 subscribers on her YouTube channel.[6]
2020
On 7 January, Mito reached 450,000 subscribers on her YouTube channel.[7]
On 18 April, Mito reached 500,000 subscribers on her YouTube channel.[8]
On 22 June, Mito reached 550,000 subscribers on her YouTube channel.[9]
On 7 September, Mito reached 600,000 subscribers on her YouTube channel.[10]
On 7 October, Mito released her first single "Sore Yuke! Gakkyuu Iinchou" (それゆけ!学級委員長).[11]
On 8 December, Mito reached 650,000 subscribers on her YouTube channel.[12]
2021
On 10 February, Mito reached 700,000 subscribers on her YouTube channel.[13]
On 29 June, Mito reached 750,000 subscribers on her YouTube channel.[14]
On 11 August, Mito released her first album entitled "Tsuki no Usagi wa Virtual no Yume wo Miru" (月の兎はヴァーチュアルの夢をみる, Moon's Rabbit Sees a Virtual Dream).[15]
On 26 September, NIJISANJI official Twitter announced Ikkisei's first live concert "initial step in NIJISANJI" on 31 October 2021.[16] Along with it, an original song "1 ∞ color" (read: Ichikara) would be released on 3 November 2021.[17]
On 17 December, Mito reached 800,000 subscribers on her YouTube channel.[18][19]
Events
2021
On 31 October, Mito took part in "initial step in NIJISANJI" #is_NIJISANJI live event as Ikkisei along with her debut-mates.[16][20][21]
Greetings
Opening:
"Kiritsu! Ki wo Tsuke! Konnichiwa, Tsukino Mito desu!"
(起立!気をつけ!こんにちは、月ノ美兎です!, Stand! Pay attention! Hello, it's Tsukino Mito!)
Relationships
"JuvveL" (read: Jewel)

- Mito (Pink Diamond[22]), Yuuhi Riri (Aquamarine[23]), Honma Himawari (Citrine[24]), Rindou Mikoto (Amethyst[25]), and Naraka (Garnet[26]).

The five of them started the plan for the unit since 2020 but it was on hold until 14 July 2021 when they held their first stream together.[27] They are the second NIJISANJI unit that has its own YouTube channel after ChroNoiR.
Tagline: "To become sparkling Idols like Jewel" (宝石のように輝くアイドルに)
Media: YouTube
Hashtags:
#JuvveL - General tag
Discography:
"Ikkisei" (一期生, 1st Generation) - NIJISANJI 1st generation debut-mates
Mito, Yuuki Chihiro, Elu, Higuchi Kaede, Shizuka Rin, Shibuya Hajime, Suzuya Aki, and Moira.
"JK-gumi" (JK組/JoshiKousei組, High School Girls Group) - Mito, Higuchi Kaede, and Shizuka Rin.

"JKL" (JK-Eru) - Mito, Higuchi Kaede, Shizuka Rin, and Elu.
Trivia
Color:

#E43F3B

[28]
Early on her career, one of her most funny moments was when she mistakenly played the BL game Stereotype Boys' Love by Europe Kikaku by thinking it was just a kusoge typing game. Once the gay sex explicit scene appeared, she used her avatar to hide the screen and uttered her now famous catchphrase Watakushi de kakusanakya! (わたくしで隠さなきゃ! Gotta hide it with myself!)
One of her first streams was done over a washing machine; in others she spoke about watching The Human Centipede movie - quite a rarity for a supposed young Japanese girl - or about eating grass when she was a child and how clovers had a better taste than other shrubbery. These themes are often seen in fanart.
Mito was originally a 2D-only, face-only streamer using the NIJISANJI app. On April 7th(?) 2018, she did a 2-hour-long NicoNico-only stream (which was mirrored to YouTube by third parties) where she used 3D-capture technology to become a fully 3D virtual YouTuber.
She enjoys collecting meaningless articles from the Line News app and uses them as the wallpaper on her mobile phone.
If she really enjoys a ride at an amusement park, she'll draw a map of the ride's layout. She once drew a map of Tokyo DisneySea's Indiana Jones Adventure.
She is knowledgeable about more obscure or questionable aspects of otaku subculture; in one video she had posted a copy of the Louise copypasta referring to herself; in a tweet she referred to reading Comic LO, a lolicon manga.
She was a guest on Japanese TV show Virtual Buzz Talk with KMNZ LIZ and LITA.
As of mid-2018 she is one of the most popular livestreamers; some streams attract tens of thousands of viewers, and Superchat donations have exceeded the equivalent of $20,000 USD in some streams.
Because of her stream on a washing machine, she partnered with the Japanese Chemical and cosmetics company Kao to advertise their brand of bleach called Wide Haiter EX. [1] Kao offered a event for fans of Mito (as she appeared on the Moe-T Washer MK-1) and they received more than 1000 applications. Only 30 fans were chosen and they were able to interact with her and received a special T-shirt and a bottle of Wide Haiter EX.[2]
On 12 January 2019 she took part in Higuchi Kaede's first live event Kana-Dero at Zepp Osaka Bayside, along with others.
Tsukino Mito's April Fool's stream
On 1 April 2019, Tsukino Mito went live with her April Fool's stream. It was previously teased on Twitter that a guest star would be appearing with her. The stream, however, was only 18 minutes long and no other Vtuber besides Mito appeared. Instead, right as the stream was starting, a video appeared through static on Mito's stream, revealing a bedroom and a figure dressed in a full Tsukino Mito cosplay (including a kigurumi mask and zentai bodysuit). The figure, later known as "Nazo no Mito" (謎ノ美兎 lit. Mysterious Rabbit) by fans, proceeded to spend the entirety of the stream dancing, eating chicken, lunging at the camera and speaking to Mito through a Mito soundboard. The stream was made private right after it ended, (going along with the joke her stream was hijacked) although it was reuploaded later, gaining over 700,000 views. The stream and the bizarre character were very popular among fans, and perhaps because of that Nazo no Mito later appeared in Tsukino Mito's TV commercial on December 31st. She made a reappearance on the April Fool's stream for 2020 in which she broke through dimensions and invaded Mito's virtual world. Two minutes of cut content that has nearly reached a million views were released days later.
External Links
Media
JuvveL - JuvveL YouTube channel
As Artist
Further readings
References