Jurassic World: Dominion Dominates Fandom Wikis - The Loop
Play Sound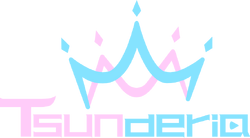 Tsunderia is a US-based VTuber agency based in Los Angeles, California.[1][2] Their goal is the production and development of VTubers and quality entertainment through creator support, including management of daily streams, assistance with initial design and further development, engaging content creation both physically and digitally, promotion with channel growth and brand identity (including promoting VTubers to the Western market and expanding the industry), and support through resources such as AR and VR technology.
They are partnered with VTube Studio, an app for face tracking and animating Live 2D models. They are also one of the earliest known US-based VTuber companies.
History
2020
Tsunderia's Twitter account was created in April 2020, and their first talent, Kamiko Kana, announced she would be joining on 23 June, having previously been an independent talent. She was followed by Inukai Purin on 26 June, and Hoshino Charlotte on 27 June, forming the first three members of the company as Gen 0.
On 29 November, Tsunderia announced their First Generation VTubers, which includes Nini Yuuna who was previously independent. She debuted under Tsunderia later on December along with three other new members.
2021
Kamiko Kana announced she would be returning to independent status on 4 February.
On 14 February, one of Tsunderia managing staff, Umiushi Urara, made a VTuber redebut.
On 4 April, Kirihime Ria graduated from Tsunderia, ceasing her activity as a VTuber.
On 3 May, it was announced that ex-MyHolo TV member Miori Celesta would join the agency as an additional member of the 1st Generation.[3]
On 28 June, Tsunderia officialy announced their Second Generation VTubers, Amemachi Hanabi and Orla Gan Ceann.[4]
On 30 October, Tsunderia Twitter account uploaded a video teaster to announce their new Gen, Gen 3 is also known as Tsunderia Dream (commonly shortened to "TsunDream"). The group has 5 members, including Chikafuji Lisa, Uzuki Tomoya, Tetsuya Kazune, Tsurugi Nen and Amiya Aranha. After the announcement, each member made their first Tweet.[5][6][7][8][9][10]
On 2 November, Tsunderia Twitter account updated Gen 3 debut date, they debuted on 6 and 7 November.[11][12]
On 4 November, Tsunderia Twitter account announced an original song "hazy hours" written and produced by TsunDream. The song was released on 5 November.[13]
On 29 November, Tsunderia opened their official merch shop.[14]
On 18 December, following the hiatus of Inukai Purin after she got affected by Typhoon Rai, 11 Tsunderia talents held a Christmas Karaoke Relay where a portion of funds donated would go towards helping her.[15]
On June 1, they announced their new staff including 3 managers R, J, and M.[16]
On 29 June, they opened their 4th Generation audition.[17]
Members
Generation 0
Mostly solo debutants who were later categorized into one Tsunderia group. Umiushi Urara was also a manager self-styled as Backdoor Generation.[18]
Generation 1
Also known as TsunQuest Party or simply TsunQuest.
Generation 2
Also known as Tsunderia Re/verse or simply TsunVerse.
Generation 3
Also known as Tsunderia Dream or simply TsunDream.
Staff



External links
Media
Twitter hashtag
References