We're Getting Mutants in the MCU - The Loop
Play Sound
         This is a Japanese name; the family name is Tsunomaki.

Associated pages
Tsunomaki Watame (角巻わため) is a female Japanese Virtual YouTuber associated with hololive, debuting as part of its fourth generation of VTubers alongside Tokoyami Towa, Kiryu Coco, Amane Kanata and Himemori Luna.
Introduction Video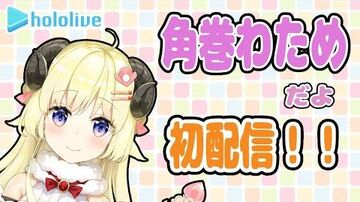 Profile
hololive.hololivepro.com
"Hoof, hoof, helloof!" "Watame did nothing wrong!" first coined[sic]
A sheep bard that goes around everywhere. She loves singing and is fluffy! YES! FLUFFY! Being a herbivore, she loves potato chips.
She makes music and videos together with the members of the Tsunomaki Troupe.
Make sure you check out her Tsunomaki Rock Paper Scissors videos as well![5]
hololive.tv
A sheep bard that goes around everywhere. She loves singing and is fluffy! YES! FLUFFY! Being a herbivore, she loves potato chips.[6]
Personality
Watame speaks in a pleasant tone befitting her image of a soft fluffy sheep. Her voice has been noted by fans to be especially soft, mature and womanly. However, in direct contrast to this image, Watame often amuses herself by making crazed facial expressions. Her wide-eyed, psychotic smile has become iconic on her channel, even appearing on some of her official merchandise (a double-sided pillow cover). She also bobs and weaves her head and body around, which has become one of her signature gestures that she does especially when singing.
She seems to be okay with her fellow hololive members eating her during collaboration streams, as she reassured her fans that even if she was eaten she would respawn after an 8-second timer.
History
Background
Watame was introduced along with the rest of the fourth gen on 25 December, 2019.[7] Her Twitter account was created on November 2019, while her first tweet was made on 25 December,[8] her YouTube channel was created on 4 December and her debut stream was on 29 December.
2020
On 10 April, at the end of Watame no Uta, she addressed the fact that her neck was orange, telling her viewers that she would get it fixed.[9] Later the same day, during a Tetris 99 stream, she received a minor model update, with her neck now matching the rest of her body.[10]
On 8 July, she announced during a stream that she would get her 3D model (this was already teased during Amane Kanata's 3D debut).[11][12]
On 12 July, she debuted her 3D model during a stream, being the third of her generation to do so, where she also debuted her first original song Aimai Chocolate.[13]
On 17 December, Watame teased a few reveals for her next stream.[14] Next day on 18 December, she revealed that her model was updated to the 2.0 version, one of the new features she highlighted is the fact that she can now have a more natural smile compared to the well-known "V" shaped mouth that her model had by default, however her previous mouth shape is not lost as she can still use it if she wants to, her model also features other refinements in her expresions and movement. The other teased announcement is that her original song Amai Chocolate would be available in various online music services starting 19 December.[15]
On 29 December, hololive's Twitter accounts announced that eight of their members would get "New year" costumes, Watame being one of them.[16]
Also on this date, Watame held her "1st Anniversary Live Fever!!" to celebrate one year since her debut on YouTube, in the concert she debuted her second original song "Donten Hitsuji"「曇天羊」("Cloudy Sheep" in English), a song featuring Mori Calliope, shortly after her live she debuted the song MV.[17][18]
2021
On 1 January, she debuted her second 2D costume, a new year kimono during a stream, her model has an additional accesory in the form of a jumping mochi, she can use her original hairstyle and two new ones, braided and short hairstyle.[19]
On 17 January, Watame reached 700,000 subscribers on her YouTube channel, during an endurance singing stream.[20]
On 14 February, Watame announced on her Twitter account that the members of the 4th generation would get their 3D idol costumes.[21]
On 15 February, she debuted her 3D idol costume.[22]
On 12 March, Watame reached 800,000 subscribers on her YouTube channel during an endurance singing stream stream.[23]
On 30 April, hololive's Twitter account announced that Towa, Kanata and Watame would get their third 2D costumes.[24]
On 3 May, Watame debuted her third 2D costume during a stream, her new outfit consist of casual clothes using a gray stripped dress with some inspiration in a sailor fuku, translucent sleeves, and a red ribbon tied to her neck, Watame also received a new hairstyle as she can now use a small side ponytail, althought she can use her original hairstyle as well, her costume include some additional accesories like a white sweather, pink headphones and her star shapped shades that are now integrated into her model.[25]
On 25 May, she reached 900,000 subscribers on her YouTube channel during an endurance singing stream.[26]
On 17 July, Watame reached 1,000,000 subscribers on her YouTube channel during a singing endurance stream, making her the 21st hololive member, as well as the 16th member of hololive JP, to reach this milestone. She is also the second member of the 4th generation to reach it.[27]
On 26 July, Watame debuted her fifth original song "Ode to an Eternal Future."[28]
On 11 August, she debuted her sixth original song "Good Morning Song."[29]
On 18 August, Watame's Twitter account was verified.[30]
On 19 August, she debuted her seventh original song "mayday,mayday."[31]
On 2 September, Watame debuted her eighth original song "Zero no Ashiato."[32]
On 9 September, she debuted her ninth original song "Everlasting Soul."[33]
On 16 September, Watame debuted her tenth original song "Holidays!"[34]
On 26 September, Watame debuted her eleventh original song "RAINBOW."[35]
On 12 October, Watame held her first live "Watame 1st Live "Watame Night Fever!! in Zepp Tokyo" Supported By Bushiroad, part of the concert was streamed for free on YouTube, while the full concert was available on the SPWN website.[36]
During the live Watame debuted her twelfth original song "My song."[37] Also during this concert she debuted her third 3D costume, in this costume Watame wears a black and red dress, while she retains her loose hairstyle, her hair is decorated with a red ribbon on the left side and her usually pink hairpin in now golden, the dress features a black top hold in place by straps that go to her neck and down to her skirt, the top has an opening in the cleavage area join together by black laces and red fabric underneath, she wears black bracelets on her wriths but the decorations differ from each other, her left wrist has small golden bracelets while her right hand has a red lace instead, Watame also only uses a red glove on her right hand, her skirt has three layers the first one is a see through white fabric decorated with a golden ornament belt featuring stars and Watame's hairpin shape (in artwork this fabric makes the red one underneath look pink) this part is much longer to the sides and to the back, the second layer is red and is longer on the back decorated with three golden eight sided stars, and the third layer is a plaid black skirt this layer is also longer on the back but not as much as the other layers, finally Watame uses black and brown shoes.[38][39]
On 29 December, during her 2nd Anniversary Live, Watame, along with Shishiro Botan, debuted their first duet original song "Shishiwata Cooking."[40]
2022
On 6 January, Watame debuted new accessories for her third 2D costume, including a new hairstyle using short hair with a small white ribbon above her right horn, pink glasses and a Watamate eye mask. She can combine all these accessories with her original hairstyle too.[41]
On 14 March, she debuted a new accessory for her third 2D costume. A red riding hood clearly inspired by Little Red Riding Hood.[42]
On 24 March, hololive's Twitter account announced that Watame would get her fourth 2D costume.[43]
On 25 March, Watame debuted her fourth 2D costume. In this costume Watame got two new hairstyles, in one she has a small bun on top of her head and her bangs maintained to the left with white and red flower shaped hairpins, in the other one she uses low twintails that fall to the front and uses a watermelon and orange shaped hairpins to the right. She wears white and light pink pajamas with a light blue hoodie that is also pink on the inside with laces decorated with yellow bows. Watame can put on the hoodie's hat revealing a monster design with yellow eyes and spikes that go down through the hoodie's back. Watame has a white bow tied to her left thigh and she wears sleeping white sheep themed slippers.[44]
On 12 August, as part of the "hololive Summer 2022" event, Watame debuted her 3D swimsuit. Unlike the original swimsuits from 2019 that had individual designs, these swimsuits are meant to be matching outfits similar to the 3D idol costumes. The swimsuits come in two types one with thin straps for the top and a diagonal cut mini skirt and the other one has ruffled straps in the top and an even mini skirt. Both version are white with varios patterns including hololive's and Holoearth's logos, hearts and sparks. The swimsuits are personalized by including different colors to match each talent. Additionally they have the option to wear a hoodie.[45]
Watame no Uta
Watame no Uta (わためのうた, Watame's Songs Corner) is a weekday series of videos on her channel that started on 3 February 2020, beginning at 5:45 JST,[46] with the intention of making it easier for her viewers to listen to her singing.[47]
In the first segment Watame sings two songs, it is then followed by Tsunomaki janken (つのまきじゃんけ / Tsunomaki's rock, paper, scissors) where the viewer can "play" against Watame, the third segment is Kyou no Hitokoto Kiryu Coco (今日の一言桐生ココ / Kiryu Coco's Comment of the Day) where Coco share her funny opinions, although other hololive members have also appeared.[48] Finally, Watame thanks her viewers for watching Watame no Uta by adding a short comment and then invite them to watch Asa Coco Live News.
In later episodes, she added the section called Tsunomaki Taisou (つのまき体操 / Tsunomaki Exercise), in which she parodies the morning exercise skits of Japanese morning shows, usually occurring on Mondays.
Originally the show was intended to end on 31 March 2020, however on 26 March Watame announced that the show would continue for another month, with the intention of becoming permanent if the show is still supported by her viewers.[49][50]
On 26 June 2020, the Watame no Uta segment reached its one hundredth edition, this milestone marked the end of the show on a weekday basis, the new schedule of WataUta being now every Monday. Watame said that she would start vocal training.[51][52]
On 31 May 2021, Watame no Uta ended after 130 editions.[53]
Discography
Main page: Tsunomaki Watame/Discography
WATAME NO UTA vol.1

1st album

29 December 2020

   

"KSZK Kaisen Sotsugyo! Song" (クソザコ回線卒業!のうた, Kusozako Kaisen Sotsugyō! no Uta)
"Hungry Song" (はらぺこのうた, Harapeko no Uta)
"Watame Lullaby" (わための子守唄, Watame no Komoriuta)
"Watame Rap" (わためラップ)
"TEE TEE Song" (てぇてぇのうた, Tee Tee no Uta)
"Can You Do the hololive?" (ホロライブ言えるかな?, hololive Ieru ka na?)
"Donten Hitsuji" (曇天羊, Cloudy Sheep)
"Ai-mai Chocolate" (愛昧ショコラーテ)
"Donten Hitsuji"
feat. Mori Calliope

External links
Digital Release • YouTube
WATAME NO UTA vol.2

2nd album

30 December 2021

   

"Good Morning Song" (おはようのうた, Ohayō no Uta)
"mayday,mayday"
"Melody For You" (キミだけのメロディ, Kimi Dake no Merodi)
"sweet night, sweet time..."
"Zero no Ashiato" (ゼロの足跡)
"Everlasting Soul"
"Holidays!"
"Ode to an Eternal Future" (御伽の詩と永久なるミライ, Otogi no Uta to Towa Naru Mirai)
"RAINBOW"
"My song"
"Shishi Wata Cooking" (ししわたクッキング)
feat. Shishiro Botan

External links
Digital Release • YouTube
Events
On 25 February 2021, Watame was made playable in Disgaea 6 in Japan as a Evil Eyed Sheep Demon named Watamee along with Rushia, Flare, Fubuki and Polka.
Fans
Her fanbase is officially called "Wata-mates" 「わためいと」. Notably, the Membership option on her YouTube account is referred to as "Member-Sheep."
Relationships
Quotes
"Watame did...nothing wrong, 'kay?"
Trivia
Her name is a pun on "Wata-Ame" 「綿飴」 which translates to "cotton candy" in Japanese. The beginning of Watame's first name, "Wata," translates to "cotton" 「綿」 in Japanese; cotton having a look and texture very similar to that of wool grown by and sheared from sheep. Her surname, Tsunomaki, comes from Tsuno 「角」which translates to "horn" and Maki 「巻」which can translate to "coil," related to her coiled sheep horns.
She was noted for having issues with her internet connection during her streams and had multiple disconnects due to her "faulty connection," thus earning her a slightly amusing reputation of being prone to disconnect, as shown here. Though she later announced that she fixed her connection.
Though usually partially obscured by her bangs, Watame has extended, fuzzy ears like those of a sheep. Watame's sheep-ears tend to involuntarily wiggle when she blinks. She does not have human ears.
She shares the same birthday as Holostars member Astel Leda.
Watame is known to be an avid snacker, with a particular predilection for potato chips. Her favorite variety appears to be Consommé flavor, while she has a particular dislike for spicy varieties. Watame frequently enjoys potato chips while on stream, with her chat frequently responding to the crunching-sound with posts of "Potato Chip ASMR".
Watame's voice, as well as distinct mannerisms such as her laugh, have been noted by fans and even hololive members to be extremely similar to that of Oozora Subaru's illustrator and VTuber Shigure Ui. Subaru even claimed that when she watched Watame's debut stream she became confused and thought that it was actually Ui streaming under a new identity.[54][55] Ui's design notably contains several fuzzy little fluff-balls that heavily resemble the texture of Watame's wool. The idea of a conspiracy where Watame and Ui are secretly one and the same has become a minor running joke among both fanbases, though it is not taken very seriously, especially since the two have done collaborations together.
She is the sixth hololive member to join the official hololive Subreddit as a moderator after Roboco-san.
Watame is widely known for her armpit-side boob (also known as "wakipai") fetish and liking for this part in general, since then it has become a running-gag in the community. When she appears as a guest in any 3D stream, Watame often asks the girls to show their wakipai or make several references of her new fetish, earning the title of "wata-oji" by the community. At one point she even asked Fubuki to smell her armpit[56] and asked Coco to "lick" Haachama's armpit in a 3D stream in her behalf.[57] In a Fall Guys stream with Haachama, Watame explains her "awakening" and why she started to like it.[58] In her 3D debut, she went as far as too show her armpit at the request of her viewers.
She shares the same illustrator with Phase-Connect 's Hakushika Iori, and Axel-V's Akuma Saki.
Watame has a channel section called Girigiri Warukunai Watame (ギリギリわるくないわため, Barely at Fault Watame) a Friday morning series of 3D shorts that started on 7 January 2022, uploaded at 7:00 JST.
External Links
Media
Further readings
References