This is a Japanese name; the family name is Umori.
Associated pages
Umori Hinako (宇森ひなこ) was a female Japanese Virtual YouTuber, associated with 774 inc. as part of the company's branch group AniMare (あにまーれ). She debuted as part of the first wave of VTubers of the group alongside Inaba Haneru, Souya Ichika, Hinokuma Ran, and Inari Kuromu.
Introduction Video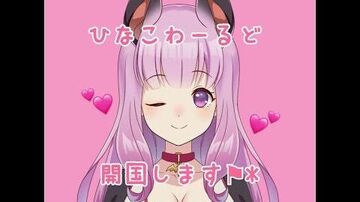 Personality
History
Background
Her channel was created on 4 June 2018, but debuted on 9 June, while her Twitter account was created on May 2018.
On 20th October 2018, her new costume was revealed.
2019
In March, all of the older videos on her channel were removed/deleted.
On 14 March [2], she did a short presentation in her newly revealed 3D form.
Retirement
After several tweets[1] about her poor health, and having to constantly apologize for it, she announced her retirement on 9 October.[2]
Afterwards it was stated that she could not be present during her "Final Stream" due to how sick she was. Haneru, Ichika and Ran had to speak on her behalf in a stream together.[3] They mentioned that if she were to ever fully recover, she's welcome to come back.
Events
On 25 July 2019, she made an appearance in Animare's collaboration with Dawn of the Breakers as one of the characters alongside Inaba Haneru, Souya Ichika, Hinokuma Ran and their manager Nanashi.[4]
Trivia
Hinako is close with Souya Ichika.
Hinako fancied going to Starbucks just for their various frappuccino drinks.[3]
It was revealed that she was good at cooking.[4]
External Links
References