We're Getting Mutants in the MCU - The Loop
Play Sound
         This is a Japanese name; the family name is Uruha.

Associated pages
Uruha Rushia (潤羽るしあ) was a female Japanese Virtual YouTuber associated with hololive, debuting as part of its third generation of VTubers under the name of "hololive Fantasy" (ホロライブファンタジー) alongside Usada Pekora, Shiranui Flare, Shirogane Noel and Houshou Marine.
At the time of her retirement in February 2022, Rushia held the record for the most superchatted YouTube channel, receiving a total revenue of US$3,285,003 across 273,923 superchats.
Introduction Video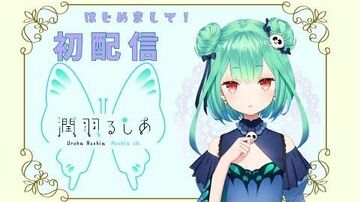 Profile
Hel-rushi! This is Uruha Rushia!
A necromancer from the Demonic-Realm Academy who is not good at communicating with people. She does not want to be alone, however, which is why she talks to the spirits and the damned.[5]
Personality
Rushia is a somewhat naive girl who is soft-spoken yet easily excitable. While she is usually innocent and sweet-sounding, she can occasionally become enraged and scream in an uncharacteristically beast-like manner before regaining her composure (for example, while playing Dark Souls or Mario Kart). She is infamous for her extremely poor anger management skills; in addition to screaming, she will often violently smash her fist against her desk. This behavior was previously regarded as breaking character, but it is now mostly considered part of her character. In these characteristics, she is sometimes compared by her fans to former NIJISANJI member Otogibara Era.
Rushia is sensitive about her breast size, and both fans and other hololive members often tease her for it, to the point that she will flinch whenever she hears someone say "flat"「ぺったん」, "wall"「壁」 or "cutting board"「まな板」. She also has a humorous "yandere" persona that occasionally surfaces when people start talking too much about other female VTubers instead of her, especially those in hololive, and will sometimes have rapid, self-deprecating attacks on herself as a result which usually prompts sympathy from her audience to calm her down.
She greets her viewers with Konrushi「こんるし」and ends with Otsurushia「おつるしあ」.
History
Background
Rushia was one of the five hololive VTubers first announced on 13 June 2019 as part of the third generation, but she and Usada Pekora were not open for audition. Her Twitter account was created on 24 June, while her YouTube channel was created on 3 July.
On 7 July during the hololive karaoke session, her name and Twitter account was officially announced alongside Usada Pekora. Her Twitter account was opened on 24 June 2019 while her YouTube channel was opened on 3 July. She debuted on YouTube with her introductory stream on 18 July.
2019
On 27 November, she announced on Twitter that she would get a 3D model.[6]
On 30 November, she debuted her 3D model during a stream. She was the second of her generation to get her 3D model after Shirogane Noel.[7]
2020
On 2 January, she announced on Twitter that she would get her second 2D costume,[8] this costume was revealed to be a kimono in celebration of the new year during a stream the same day.[9] In this costume Rushia wears a butterfly ribbon, that can be taken off.
On 24 January along with the other hololive girls up to the third generation, she debuted her 3D idol outfit at hololive's 1st fes. Nonstop Story.[10][11]
On 15 June hololive's Twitter account announced that Rushia would get a new 2D costume.[12] The costume was revealed the next day on 16 June, during a stream, in this costume, she wears a black dress, long white hair with pink lights and purple shadows, her old hair style is still usable and has been recolored to match the new costume.[13]
On 25 December, she reached 800,000 YouTube subscribers during a singing endurance stream.[14]
2021
On 22 January, during her birthday celebration 3D stream, Rushia debuted a new hairstyle, similar in appearance to her original hair cut, she uses small pigtails and cat ears.[15] She also debuted her first original song: Iris「アイリス」.[16]
On 26 January, she reached 900,000 YouTube subscribers.
On 3 March, Rushia reached 1,000,000 YouTube subscribers, becoming the 11th member of hololive to reach this milestone and the 8th member of hololive JP to do so. She is also the 3rd member of hololive Fantasy (alongside Pekora and Marine) to achieve this milestone.[17]
On 27 April, Rushia revealed that she was diagnosed with reflux esophagitis and insomnia, thus her streaming activities were put on a temporary hiatus.
On 18 July, Rushia debuted new accessories for her third 2D model, including a new hairstyle, a crown and a black and white oversized jacket.[18]
On 11 November, hololive's Twitter account announced that Rushia would get her fourth 2D costume.[19]
On 13 November, Rushia debuted her fourth 2D costume, in this costume Rushia got a new hairstyle with the longest loose hair, like every long hair version the inner side is pink, Rushia has a braid on the left side and two butterflies decorations, the left one is small and is below her braid, the right one is big to the side of her head, she also use small heart shaped earrings. The costume is a typical school uniform, with a white blouse, decorated with a dark blue plaid ribbon and a matching skirt, however the costume has some accessories, a light brown sweater falling from her left shoulder, a dark blue blazer and a polar bear hoodie.[20]
On 10 December, she reached 1,500,000 YouTube subscribers, making her the 8th hololive member to reach this milestone, as well as the 5th member of hololive JP. She is also the third member of hololive JP's 3rd Gen to achieve it.
On 24 December, Rushia debuted new accessories for her fourth 2D costume, a white and fluffy beret and earrings.[21]
2022
On 22 January, Rushia debuted her second original song "Omoikou" during her 3D birthday live, during the same event Rushia also debuted new accessories for her fourth 2D costume, cat ears and a choker.[22]
On 11 February, Rushia went on a self-imposed hiatus following an incident during a stream on the previous day, where she accidentally leaked a DM on her Discord from utaite Mafumafu, which sparked the rumors of the two dating; Mafumafu later issued an apology and denied the rumors. The hashtag #るしあ大好きだよ ("We love Rushia!") went viral on Twitter among Fandeads who were concerned with Rushia's mental health.
On 14 February, COVER Corporation released a statement on the incident, noting that "the private life of the talent is left up to the individual. We, as COVER, do not interfere with our talents' private lives." It noted that Rushia and other had suffered emotional stress due to slander and defamation, and asked the public to refrain from further misinformation and harassment. The company also stated that they were investigating misleading information to third parties and leakage of business information.[23]
Retirement
On 24 February, COVER Corporation released a statement terminating their contract with Rushia due to several contract violations on her part. The notice alleged that she leaked company information which she had a responsibility to protect, and publicized falsehoods to various parties, causing the company to suffer reputational damage.[24]
At her retirement, Rushia was the most superchatted YouTube channel of all time, receiving a total revenue of US$3,285,003 across 273,923 superchats. The second highest at this time was Kiryu Coco, who had retired from hololive around eight months earlier. Rushia's channel had 1,590,000 subscribers and 150,305,753 video views at the time of the announcement, and her Twitter account had reached 1,174,502 followers.
In their statement, COVER announced that Rushia's YouTube channel would be deleted around the end of March 2022. This was consistent with previous hololive members whose channels had been erased by the company following the termination of their contract, with the notable exception of Kiryu Coco, who had retired voluntarily, and holostars member Kagami Kira.
On 1 April, just after midnight JST, all of Rushia's YouTube videos were set to private. As had previously occurred with Mano Aloe, Rushia's YouTube channel and Twitter account were not deleted, although a notification was added to the channel description and Twitter bio that she had ceased activities. Her channel had 157,454,559 views and 1.6 million subscribers at this time.
Discography
Main page: Uruha Rushia/Discography
Events
On 25 February 2021, Rushia was made playable in Disgaea 6 in Japan as a Boin Boin Succubus named Ruusha along with Fubuki, Flare, Watame, and Polka.
On 2 July 2021, the hololive Twitter account announced that Rushia would appear in a collaborative promotion campaign for the movie Evangelion: 3.0+1.0 Thrice Upon a Time along with Houshou Marine, Sakura Miko, Shirogane Noel, Minato Aqua, A-chan, and a secret person as guests.[25] The project was scheduled to be released on 3 July, but was postponed indefinitely.[26]
On 13 August 2021, hololive's Twitter account announced that 12 members including Rushia (representing the Rakuten Eagles) would participate in a collaboration with the six professional Japanese baseball teams from the Pacific League, each team represented by two hololive members. The collaboration included promotional merchandise that could be brought, including hats, posters, keychains, among others. A promotional match between ORIX Buffaloes vs. SoftBank HAWKS scheduled for 3 October 2021 at the Kyocera Dome Osaka stadium was called "hololive day."[27]
Fans
Her fanbase is called 「ふぁんでっど」(Fandeddo), which is an attempt to combine the words "Fan"「ファン」with the word "Undead"「アンデッド」. In English, her fanbase is officially called "Fandead."
Trivia
Uruha Rushia's name is written 「潤羽るしあ」.

"Uru" is written「潤」, as in 「潤い」, "uruoi," meaning moistness, richness or charm. The kanji is also used to represent various Japanese names, the kanji "Jun" in the name of horror manga artist Junji Itou.
"Ha"「羽」means "feather."
Her personal name may be a hiragana rendering of the foreign name, Lucia. Rushia is also an obscure Japanese female given name, normally written with various kanji.
Her male persona's name also follows the same format, as Rushifer is Lucifer. Lucifer, originally meaning "light-bringer," is a being of Judeo-Christian lore often equated with Satan or the Devil.

Rushia popularized the now common community phrase "boin boin," Japanese onomatopoeia for the sound made by large breasts. As Rushia is not this, fans commonly call her "pettan" (flat chested) or "cutting board." Rushia has even gone on record to tell the team of Disgaea 6 (or perhaps threaten them) into making her a sexy succubus for the game. A common meme is comments being cut short whenever they talk about her being flat chested, implying that she killed them for it.

"Boin" is often localized as "Boing" in English, in general translation work. This extends to the English-speaking hololive community as it is often used to describe other busty members as well.

Her tendency to smash her desk when raging led to the meme "desk-kun -10hp," now used frequently for all VTubers with similar tendencies. Tokoyami Towa in particular helped popularize this further.
During her debut, candidates for her fan mark aside from 🦋 (butterfly) included 💀 (skull), 👻 (ghost), 🍨 (ice cream), and 🧟‍♀️ (female zombie).
Rushia's acting and vocal range has been noted to be extremely wide. Many are painfully aware of the death metal potential she is capable of, but her vocal range can also extent to sensual/sexy to even grandmotherly, all on top of her already soft, cutesy voice she always uses. This allows her to cleanly express what character is suppose to be talking in mute games she reads aloud.

Her "death metal" voice is often compared to the howl of Evangelion Unit-01, which resulted in gaining a nickname "Shogouki," though she has stated the reason for the nickname as "cool, cute and beautiful, just like Eva Unit-01" in a stream when a viewer questioned it.[28]

She used to say "nanodesu" when speaking, but rarely does now.
She shared the same character illustrator with Kamiki Hasami, Kurokiri Aria (first model), Shinomiya Mimi (first model), Kamishiro Natsume, Hoozuki Warabe, Kamiyu Reirin & Hizuki Hino.
She is the fourth shortest hololive member at 143cm after La+ Darknesss, Gawr Gura and Himemori Luna.
At her retirement, Rushia's channel had 453 public videos with a total runtime of 1,316 hours, 11 minutes and 6 seconds.
Rushia's last tweet was made on 14 February 2022. It received over 218k likes, 41.3k retweets and 17.9k replies.
Rushia won the popular VTuber poll on the Japanese portal "cyzo woman" with 79% of the votes.[29]
External Links
Media
Further readings
References