Uruha Rushia (潤羽るしあ) is a female Japanese Virtual YouTuber associated with hololive, as part of its third generation of VTubers under the name of "hololive Fantasy" (ホロライブファンタジー) alongside Usada Pekora, Shiranui Flare, Shirogane Noel, and Houshou Marine.
Introduction Video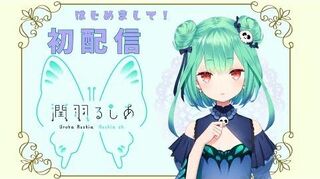 Rushia's introduction.

Personality
Rushia is a soft-spoken, somewhat naive girl who panics easily. While she is usually innocent and kind, she can occasionally become enraged and scream in an uncharacteristically beast-like manner before regaining her composure (for example, while playing Dark Souls or Mario Kart). She is infamous for her extremely poor anger management skills; in addition to screaming, she will often violently smash her fist against her desk. This behavior was previously regarded as breaking character, but it is now mostly considered part of her character.  Rushia is sensitive about her breast size, and both fans and other hololive members often tease her for it, to the point that she will flinch whenever she hears someone say "wall" (壁) or "cutting board" (まな板). She also has a humorous "yandere" persona that occasionally surfaces when people start talking too much about other VTubers instead of her.
History
Background
A third generation of hololive VTubers were first announced on 13 June 2019, her being one of the other four. She and Usada Pekora were not open for auditioning, unlike the other three.
On 7 July during the hololive karaoke session, her name and Twitter account was officially announced alongside Usada Pekora. Her Twitter account was opened on 24 June 2019 while her YouTube channel was opened on 3 July. She debuted on YouTube with her introductory stream on 18 July.
2019
On 27 November, she announced on Twitter that she would get a 3D model.[2]
On 30 November, she debuted her 3D model during a stream.[3] She was the second of her generation to get her 3D model after Shirogane Noel.
2020
On 2 January, she announced on Twitter that she would get her second 2D costume,[4] this costume was revealed to be a kimono in celebration of the new year during a stream the same day.[5] In this costume Rushia wears a butterfly ribbon, that can be taken off.
On 24 January along with the other hololive girls up to the third generation, she debuted her 3D idol outfit at hololive's 1st fest Nonstop Story.[6][7]
On 15 June hololive's Twitter account announced that Rushia would get a new 2D costume.[8] The costume was revealed the next day on 16 June, during a stream, in this costume, she wears a black dress, long white hair with pink lights and purple shadows, her old hair style is still usable and has been recolored to match the new costume.[9]
Fans
Her fanbase is called 「ふぁんでっど」(Fandeddo), which is an attempt to combine the words「Fan(ファン)」with the word「Undead(アンデッド)」. In English, her fanbase is officially called "Fandead".
Trivia
She used to say "nanodesu" when speaking, but rarely does now.
She greets her viewers with 「こんるし」(Konrushi) and ends with 「おつるしあ」(Otsurushia), both deriving from her name Uruha Rushia.
External Links
References
↑
Uruha, R.[[Rushia Ch. 潤羽るしあ] (2020, June 16) 【潤羽るしあ】新衣装★お披露目【ホロライブ】[Video File] Retrieved from https://youtu.be/g2nf-28JTps?t=1493
Community content is available under
CC-BY-SA
unless otherwise noted.