Usada Pekora (兎田ぺこら) is a female Japanese Virtual YouTuber associated with hololive, as part of its third generation of VTubers under the name of "hololive Fantasy" (ホロライブファンタジー) alongside Uruha Rushia, Shiranui Flare, Shirogane Noel, and Houshou Marine.
Introduction Video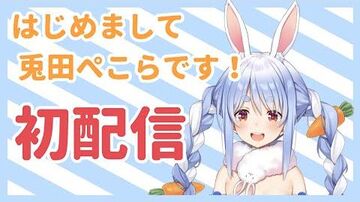 Pekora's introduction.

Personality
Pekora hails from the nation of Pekoland, where she claims she is a member of royalty. While not much is currently known about Pekoland, it is assumed that its denizens are, like Pekora, humans with rabbit-ears and comparatively long lifespans, and that the rabbit-motif apparent in Pekora's fashion and accessories is significant to their culture. According to Pekora, "peko" is the only word in the Pekolandish language. In-line with her claims of a royal upbringing, Pekora's personality can be described as outwardly bratty, haughty, immature and surly, but genuinely playful and friendly.
Pekora is infamous for mischief, to the point where other hololive members will instantly become suspicious of any project if they learn that Pekora was involved. While her intended victim is usually Sakura Miko, no one is exempt from her trolling, not even herself. Pekora's fans appropriately display this same kind of attitude and are known to ruthlessly tease her through the chat when the opportunity arises. In spite of everything, Pekora still wants to be recognized as a real idol, but fans mostly think of her as a "comedian" and "crazy rabbit".
Pekora has a distinctive laugh (frequently represented in text as "AH↓ HA↑ HA↑ HA↑") somewhat resembling that of an older female aristocrat, and frequently interjects her sentences with the "-peko" suffix, though she has been known to forget this occasionally. She asserts her dominance by shouting "PE↗ KO↘ PE↗ KO↘ PE↗ KO↘".
History
Background
Pekora was one of the four hololive VTubers first announced on 13 June 2019 as part of the third generation but she and Uruha Rushia were not open for audition.
On 7 July during the hololive karaoke session, her name and Twitter account were officially announced alongside Uruha Rushia.
On 28 May 2019 her Twitter account was opened while her YouTube channel was opened on 3 July. She debuted on YouTube with her introductory stream on 17 July.[3]
2019
On 10 December during a stream she announced that she would get a 3D model, which was later reconfirmed on her Twitter account.[4] Her 3D model was shown during a stream on 14 December,[5] being the third of her generation to get it, after Shirogane Noel and Uruha Rushia.
2020
On 1 January she announced on Twitter[6] that she would debut a new year's 2D costume, which was latter revealed in a stream the same day.[7] This is her second 2D costume overall.
On 24 January along with the other hololive girls up to the third generation, she debuted her 3D idol outfit at hololive's 1st fest Nonstop Story.[8][9]
Fans
Her fanbase is officially called "League of the Hare Alliance" (野うさぎ同盟 in Japanese).
Trivia
Pekora's character model features small highlights in the center of each eye's pupil that resemble the facial profile of a rabbit.
After the topic of headphones came up during a stream, Pekora claimed that she can successfully use headphones with both sets of her ears (both the human pair and her rabbit-ears).
While many of her fellow hololive members have questioned whether her bunny ears are real or not, Pekora has claimed that her human ears are actually fake, added by her "Mama" so humans would be more accepting of her.
While the carrots lodged in each of Pekora's braids are typically presumed to be fake and decorative accessories, an outro-scene in a holo no graffiti episode shows Shirakami Fubuki, Roboco and Natsuiro Matsuri attempting to use them as an ingredient for curry, indicating that they may instead be real, edible carrots. However, in another episode of holo no graffiti, removing the carrots from Pekora's braids resulted in several hololive members becoming temporarily trapped in a sort of pocket-dimension in the space in Pekora's hair that the carrot had occupied, so anything consistent about the nature of Pekora's braid-carrots is hard to establish.
While Pekora's personality can be described as somewhat bratty, boisterous, immature or sometimes outright antagonistic, several hololive members have described this as being contradictory to her true, off-stream personality. Personal friends like Sakura Miko have described her as being extremely easy to get along with, polite, respectful and even somewhat reserved.
External Links
References
Community content is available under
CC-BY-SA
unless otherwise noted.