Jurassic World: Dominion Dominates Fandom Wikis - The Loop
Play Sound
         This is a Japanese name; the family name is Usada.

Associated pages
Usada Pekora (兎田ぺこら) is a female Japanese Virtual YouTuber associated with hololive, debuting as part of its third generation of VTubers under the name of "hololive Fantasy" (ホロライブファンタジー) alongside Uruha Rushia, Shiranui Flare, Shirogane Noel and Houshou Marine.
Introduction Video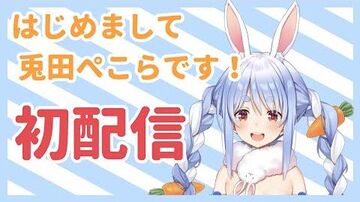 Profile
"Hiya-peko! Hiya-peko! Hiya-pekooo! I'm Usada Pekora, peko!"
A lonely rabbit-eared girl who loves carrots. She loves them so much that she always brings a few anywhere she goes.[5]
Personality
Pekora hails from the nation of Pekoland, where she claims she is a member of royalty. While not much is currently known about Pekoland, it is assumed that its denizens are, like Pekora, Animals humans with rabbit-ears and comparatively long lifespans, and that the rabbit-motif apparent in Pekora's fashion and accessories is significant to their culture. According to Pekora, "peko" is the only word in the Pekolandish language. In-line with her claims of a royal upbringing, Pekora's personality can be described as outwardly bratty, haughty, immature and surly, but genuinely playful and friendly. But when not on camera she has been noted by other hololive girls as polite and shy to as she doesn't like people in her space, as well as one to internalize her pain (as noted by Houshou Marine) which ended up prematurely ending one of her streams with her in tears.
Pekora is infamous for mischief, to the point where other hololive members will instantly become suspicious of any project if they learn that Pekora was involved. While her intended victim is usually Sakura Miko, no one is exempt from her trolling, not even herself. Pekora's fans appropriately display this same kind of attitude and are known to ruthlessly tease her through the chat when the opportunity arises. In spite of everything, Pekora still wants to be recognized as a real idol, but to her chagrin, fans mostly think of her as a "comedian" and "crazy rabbit," not helped by her constant sprees of often self-inflicted misfortune. Even when she is in a idol-like scenario, something always backfires on her. Fittingly, she is also particularly well-known for being able to almost instantly flip between smugly gloating and desperately begging for help/forgiveness depending on whether or not she has the upper hand in a situation.
Pekora has a distinctive laugh (frequently represented in text as "AH↓ HA↑ HA↑ HA↑") somewhat resembling that of an older female aristocrat, and frequently interjects her sentences with the "-peko" suffix, though she has been known to forget this occasionally. She asserts her dominance by shouting "PE↗ KO↘ PE↗ KO↘ PE↗ KO↘."
History
Background
Pekora was one of the five hololive VTubers first announced on 13 June 2019 as part of the third generation, but she and Uruha Rushia were not open for audition.
On 7 July during the hololive karaoke session, her name and Twitter account were officially announced alongside Uruha Rushia.
On 28 May 2019 her Twitter account was opened while her YouTube channel was opened on 3 July. She debuted on YouTube with her introductory stream on 17 July.[6]
2019
On 10 December during a stream she announced that she would get a 3D model, which was later reconfirmed on her Twitter account.[7] Her 3D model was shown during a stream on 14 December, being the third of her generation to get it, after Shirogane Noel and Uruha Rushia.[8]
2020
On 1 January she announced on Twitter that she would debut a new year's 2D costume, which was later revealed in a stream the same day. This is her second 2D costume overall.[9][10]
On 24 January along with the other hololive girls up to the third generation, she debuted her 3D idol outfit at hololive's 1st fes. Nonstop Story.[11][12]
On 22 July, Pekora reached 500,000 subscribers on her YouTube channel, making her the 4th hololive member to reach this milestone and the first of her generation.
On 4 December, she reached 1 million YouTube subscribers during a stream being the fourth member of hololive to reach this milestone after Gawr Gura, Inugami Korone and Shirakami Fubuki and the third to do so on the Japanese branch. She is also the first member of hololive JP's 3rd Gen to reach it.[13]
On 13 December, she revealed her VTuber job to her mother live on a stream with over 120,000 viewers. Pekora previously had kept it a secret from her family, and had previously decided to reveal it upon reaching 1 million subscribers.[14]
2021
On 12 January, on her birthday stream, Pekora debuted her first solo original song: Pekorandom Brain! with the official MV of the song being published just a bit later.[15][16]
On 6 March, Pekorandom Brain! surpassed 1,000,000 views.
On 1 April, Pekora debuted her third 2D costume, a prison outfit during a stream in which she was tossed in jail for various crimes including but not limited to, stealing carrots, cruel pranks in Minecraft, being a gambling addict instead of saving the world in Dragon Quest and for being too cute. The costume features an ear-sock beanie, chained bunny eared collar, a carrot styled ball and chain strapped to her ankles (and Don-chan) and a ripped shirt, all of which styled after classic monochrome prison stripes. She was not allowed her freedom unless she could prove she had redeeming qualities that her friends remember about her, all while trying to scheme how to break out.[17]
On 2 June, she reached 1,500,000 YouTube subscribers during a singing endurance stream. This makes her the 3rd member of hololive to achieve this milestone, as well as the 2nd member of hololive JP. She is also the first member of hololive JP's 3rd Gen to achieve it.[18]
On 17 July, during her second anniversary celebration, Pekora debuted a new asset as she can now use a Nousagi on top of her head, Nousagi mimics Pekora's facial changes and expressions.[19]
On 21 November, to promote hololive Fantasy's 1st live concert, FAN FUN ISLAND, hololive Fantasy debuted their group original song "Interact Fantasia."
On 16 December, hololive's Twitter accounts announced that Pekora would get her fourth 2D costume.[20]
On 19 December, Pekora debuted her fourth 2D costume. With this outfit Pekora got two new hairstyles, one with loose hair and small buns at the sides decorated with blue ribbons and carrot shaped pins on the front, and another one with short hair and small twintails at the sides decorated with thinner blue ribbons and three carrot shaped pins near her twintails, notably on with this hairstyles Pekora uses her rabbit ears tied up making them look like a ribbon on her head, however Pekora also has the option to use her ears untied. on her left ear Pekora wears an earring that looks like a small bunny peeking out. In this costume Pekora wears a white shocker, a white sailor fuku, the ribbon of her dress has two shades of blue and on the left side is has bunny's ears white silhouette, the sleeves and the edge of the skirt have light blue lines as decoration, Pekora can also wear a darker blue jacket that is falling below her left shoulder, on the right side she carries a carrot in one of the pockets underneat this pocket the jacket is decorated with a blue lace tied up into a ribbon. Pekora's shoes are of the same shade as her jacket, the tip of ther shoes are white making the silhouette of bunnies, on the back of the shoes there are small white buns that resemble bunnies' tail. Additionally Pekora can wear white and orange shades the right one is shaped like a heart and the left one like a bunny's head.[21]
2022
On 14 May, Pekora announced that due to the worsening of her throat's condition, she would have to take a break from streaming for one to two months.[22]
Discography
Main page: Usada Pekora/Discography
Iiwake Bunny

2nd single

13 January 2022

   

"Iiwake Bunny" (いいわけバニー, Alibi Bunny)
"Iiwake Bunny" (instrumental)

External links
Digital Release • YouTube
Events
On 20 September 2020, A PVC garage kit of Pekora was released by Ringo Renmei.
On 10 October 2020, Nissin's character Curry Meshi-kun's Twitter account announced a collaboration between hololive and the Curry Meshi brand named "Curry Meshi WEEK" where she, Oozora Subaru and Minato Aqua would appear as the central characters of the collaboration (with other members also appearing) forming the unit name "Spice Love."[23][24] debuting an original song on hololive's YouTube channel called "カレーメシ・イン・ミラクル" translated as Curry Meshi in Miracle and a special stream held on 11 October.[25][26]
On 13 August 2021, hololive's Twitter account announced that 12 members including Pekora (representing the Hokkaido Nippon-Ham Fighters) would participate in a collaboration with the six professional Japanese baseball teams from the Pacific League, each team represented by two hololive members. The collaboration include promotional merchandise that could be brought, including hats, posters, keychains, among others, also a promotional match between ORIX Buffaloes vs SoftBank HAWKS scheduled for 3 October 2021 at the Kyocera Dome Osaka stadium called "hololive day."[27]
On 17 February 2022, Pekora came out as one of the winners of Topic Award (話題賞) on Game Streamers Awards 2021 along with Kano Eiko.[28][29]
On 2 May 2022, it was teased on Valkyrie Connect's Twitter account that four hololive members would appear in a collaboration with the game. On 9 May, it was revealed that Pekora alongside La+ Darknesss, Takanashi Kiara and Ninomae Ina'nis would appear in the game with new artwork and designs.[30][31]
Mascot and Fans
Pekora's scarf is actually her pet named Don-chan.
Her fanbase is officially called "League of the Hare Alliance" or "Nousagi"「野うさぎ同盟」in Japanese and are represented as rabbit fur balls with carrots clipped to their ears. However, the "Nousagi" on top of Pekora also goes by the name "Pekomon," it is unknown if such name is specific to that "Nousagi" or used to refer the entire species.
Relationships
Quotes
"KI-T-RA, KI-T-RA, KI-T-RA!!!~~~♪" (きtら、きtら、きtらああ!!!~~~♪) - Pekora's victory cry, based on Japanese cellphone slang
"Ah, ah, ah, ah! Konpeko, konpeko, konpeko! hololive san kise no: Usada Pekora peko! Doumo, doumo!"
"Hi Honey~. *wink* Peko!"
Trivia
Pekora's character model features small highlights in the center of each eye's pupil that resemble the facial profile of a rabbit.
The black lines on the top of her dress are actually the top of a strapless leotard which, when combined with the dark tights and her natural rabbit features, forms the stereotypical "Bunny Girl" outfit, a classic, sexy, Playboy Magazine-inspired waitress attire typically seen around entertainment plazas like casinos, though has taken on a life of its own within Japan with various pronounced restylings that fit its colorful creative ecosystem. Pekora herself seems fond of the classic look, as she often uses Bunny Girl outfits found in the video games she plays when available.
After the topic of headphones came up during a stream, Pekora claimed that she can successfully use headphones with both sets of her ears (both the human pair and her rabbit-ears).
While many of her fellow hololive members have questioned whether her bunny ears are real or not, Pekora has once depicted them bleeding after she "cut" them off to give Kiryu Coco as birthday present. On the other hand, she has also claimed that her human ears are actually fake, added by her "Mama" so humans would be more accepting of her.
While the carrots lodged in each of Pekora's braids are typically presumed to be fake and decorative accessories, an outro-scene in a holo no graffiti episode shows Shirakami Fubuki, Roboco and Natsuiro Matsuri attempting to use them as an ingredient for curry, indicating that they may instead be real, edible carrots. However, in another episode of holo no graffiti, removing the carrots from Pekora's braids resulted in several hololive members becoming temporarily trapped in a sort of pocket-dimension in the space in Pekora's hair that the carrot had occupied, so anything consistent about the nature of Pekora's braid-carrots is hard to establish. It is better to dismiss it as typical comical nonsense HoloGra is known for.
While Pekora's personality can be described as somewhat bratty, boisterous, immature or sometimes outright antagonistic, several hololive members have described this as being contradictory to her true, off-stream personality. Personal friends like Sakura Miko have described her as being extremely easy to get along with, polite, respectful and even somewhat reserved.
Pekora's penchant for casually committing morally questionable acts while playing games (most infamously her actions towards Villagers in Minecraft) has earned her a reputation as a "war criminal" among western fans.
Apart from her "war criminal" reputation mentioned above, Pekora is also well known for her sheer luck from time to time. For example:

Successfully caught a prize on the first try for several time during her commercial streams promoting online catcher arcade.
Getting more than one Yacht in one playthrough when playing Yacht Dice from the Nintendo's 51 Worldwide Games.
Getting high-rarity cards from gachas in Princess Connect Re:Dive without charging money into the game.
When battling the Elite Four and Champion in Pokémon Brilliant Diamond, she escaped defeat thanks to her Gyarados frequently enduring fatal attacks and/or shaking off status conditions at critical times, with each of them has a triggering rate less than 30% even at maximum level affection. Moreover, Pekora had at least once accidentally scoring a one-hit KO when her opponent suddenly replaced the on-field Pokémon after she selected a move, and the new Pokémon is weak to it.

Pekora established her own company, Usada Kensetsu, on the hololive Minecraft JP server.
According to herself, her age of 111 years is actually 3 years old in Pekoland, as 1+1+1=3.
Also according to Pekora, bunny girls don't wear panties.
Pekora has shown herself to be a gambling addict.
A giant obsidian portrait of a chibi Pekora head was constructed on the infamous Minecraft server 2b2t.org. It used over 2.1 million obsidian, and is the largest hand made obsidian map art currently on the server (and second largest overall).
Pekora makes a cameo in episode 2 of How Not to Summon a Demon Lord Ω (Omega), albeit with a modified color scheme and different clothing resembling a impoverished villager. However, she was removed entirely from future Japanese broadcasts over fears of copyright infringement with Cover Corp. She still remains in import streaming versions seen on sites like Crunchyroll due to licenses usually being one and done deals.
Pekora's birthday of 12 January is known in Japan as Good Ginseng Day, "ii ninjin no hi." It is a form of goroawase where 1/12, "ichi ichi ni," is read "i i ni (njin)." Its connection to Pekora is that "ninjin" also means "carrot." Pekora mentioned this during her Metal Gear Solid 2 playthrough.[32]
External Links
Media
Further readings
References