Kon'nichiwa, I'm プレゼンス aka Der Presenz.


Welcome to my Profile page!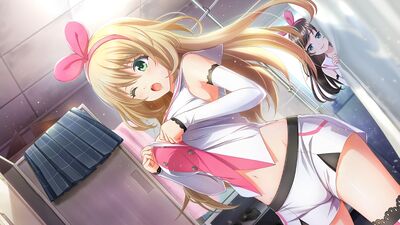 I am a writer, and a Psychologist.

I'm a

Japanese girl, who loves to be under a kotatsu.
I play video games. I write short stories.
Sometimes I compose music.


I don't speak Japanese, nor any language at all, because I'm mute.

Don't forget to visit my talk page if you want to talk about anything!
Current status: ACTIVE USER
Welcome
I'm the Bureaucrat of this wiki.
If you need help with stuff related to the main page, including the VTubers featured, an also with things related to the VTubers and Virtual Groups in the list below, please post a message at this thread, and if you need to report a spammer and/or summon the banhammer, request it here (Also please make use of the report function, be sure to read the guidelines before reporting).
About Me
I play video games. I write short stories.
I'm a member of the circle LRF. In addition of being a psychologist, I also have studies in Philosophy, Mathematics, Education, and Music.
I publish my stories on Shōsetsuka ni Narō (a.k.a. Syosetu), Kakuyomu, Pixiv, Everystar, Magical Land, Honeyfeed, AlphaPolis, MAGNET MACROLINK, Novel Up +, Wild Strawberries, Berry's Cafe, Waiting LN, Hameln, monogatary.com, LN street, NOVEL DAYS, Novelba, Novema, Stunning G, and Hatena Blog.
I'm what one would call: himejoshi (姫女子), Yurijoshi (百合女子), Yuri Ota (百合オタ) / Yuri Otaku (百合おたく、百合オタク、百合ヲタク), Yuri fangirl, Lily Fan, Yuri Fan, or Girls' Love Fan / GL Fan.
VTubers
VTubers I follow
Among others
Virtual Groups I follow
Among others
Pages I have created
VTuber wiki
WWS wiki
GuP wiki
My favourite pages across FANDOM
Characters
Vehicles
Other
Wikis
Wikis I manage
My favourite wikis
Other wikis I like
Other wikis I follow
Templates
Welcome to Virtual YouTuber Wiki
This Wiki contains information about VTubers and Virtual Groups.

VTuber Wiki
This wiki is dedicated to virtual idols/characters that appear in YouTube and/or other streaming/video services. This includes any fictional character that portrays a virtual idol that uploads on regular basis talking and acting on a certain topic or play games as a fictional character.
Any online entertainer represented by a (digital) avatar generated by computer graphics (or other means).
-