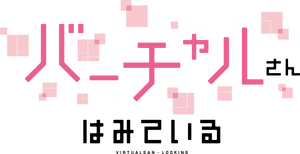 Virtual-san wa Miteiru (バーチャルさんはみている / Virtual Friends are Watching Lit. Mr. Virtual is Watching, Officially stylized as VIRTUALSAN - LOOKING) is a 2019 animated series featuring an assemble cast of thirty VTubers from different backgrounds and companies, produced by the recently founded VTuber animation studio Lide, Inc.. Virtual-san debuted its first episode on Thursday 10 January 2019, midnight JST on the channel TOKYO MX (with simulcasts on Nico Nico Douga and Periscope) and it will be a series of 12 weekly, 24 minutes episodes.
A Blu-ray boxset with the whole series (plus two special unaired episodes) will be released on 27 March, 2019 [1]
On 16 January, 2019 Anime streaming service Crunchyroll announced they will simulcast the series for overseas audiences as part of their Winter 2019 Anime Simulcast Lineup [2] [3]. Crunchyroll will start the simulcast from episode 3 onwards.
On 24 February 2019 it was announced an exclusive 2 day live event for the fans who buy the boxset [4]. It will be held on the last weekend of April 2019 (27 and 28) as part of the events of the Nico Nico Chokaigi 2019. It will feature the group Virtual Real plus an array of several guests.
Cast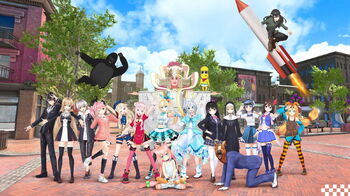 Virtual-san wa Miteiru has a cast of thirty virtual youtubers, lead by an assemble of six VTubers, called the Virtual Real (バーチャルリアル). The announced main cast are comprised of the following six virtual youtubers:
Along with them the following Vtubers appeared as supporting characters (last update 28 March, 2019)[5]:
The following VTubers did cameos as special guests as well:
Crew and Soundtrack
Virtual-san wa Miteiru 12 episode season was directed by Daigo Abe of Lide studios, with Daisuke Yokozawa, Shinnosuke Suzuki and Dwango as the producers. Khara inc's Hideaki Anno (who allowed the use of the school uniform from Neon Genesis Evangelion) served as a creative consultant.
Kizuna AI sings the opening theme of the first six episodes, the song "AIAIAI". The last six episodes opening theme, "Ai ga Tarinai" (あいがたりない) is performed by Virtual Real.
Both songs were produced by Yasutaka Nakata (中田ヤスタカ).
The theme song for the Ending credits, Hitogata (ヒトガタ), is performed by Tanaka Hime and Suzuki Hina.
Media
Announcement Trailer
Second Trailer
Sneak Peek
Opening of the first six episodes (Kizuna AI's "AIAIAI")
Music Theme of the last six episodes and Episode 12's ending (Virtual Real's "Ai ga Tarinai")
Ending for episodes 1-11 (HimeHina's "Hitogata")
External Links
Community content is available under
CC-BY-SA
unless otherwise noted.