Virtual Noja Loli Kitsunemusume Youtuber Ojisan (バーチャルのじゃロリ狐娘Youtuberおじさん, lit. Virtual Noja Loli Foxgirl Youtuber Uncle) is a Female (male) Japanese Virtual Youtuber who debuted on December 5, 2017.
Introduction Video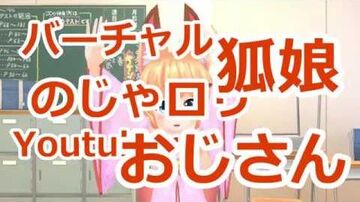 Nojaoji's self-introduction.
Personality
The most unique point is that a cute character speaks as middle-man voice without voicechanger.
She is always with a serious look rooted from her model's specification, and add "noja" at end of the sentences in order to appeal her characteristic, unnaturally. But these are one of her charms.
Profile
Birthday: Unknown
Height: 137.591cm
Weight: Unknown
Work: Youtuber
Appearance Age: 10
Loves: Pocky game, Kendo, To make laugh
Phrases
Life sucks life is suffering it sucks NOJYAAA NOJA
Virtual noja loli fox girl youtuber old man nekomasu here
Nanojya
Invitations
Nekomasu was invited in a Japanese game called Kotodaman
Nekomasu was invited to publish his own line stickers
Appearance
Nekomasu wears a pink kimono with a bell on the chest and exposed armpits. He/she has fox ears and a fox tail. "Nojya" (のじゃ) is an inflection in kansai dialect which is associated with fox girls.
Trivia
Nekomasu's name was meant to be Cat Ear Master (ねこみみマスター).
The Foxgirl Shrine Maiden model is original made by Nekomasu himself, she was named Mikoko (みここ, lit. Shrine Maiden Girl).
Originally Nekomasu had hoped to have a job related to create 3DCG, so he started this activities as a portfolio to have a job.
External Links
References