Virtual Youtuber Drama 25: House of the Watanuki (バーチャルYouTuberドラマ25『四月一日さん家の』Baacharu Youtuber Dorama Nijuu Go Dorama: Watanuki-san Chi No) or simply known as Watanuki-san Chi No (四月一日さん家の Lit. House of Mr. Watanuki) is a 2019 upcoming animated dorama starring two of the most important VTubers plus a newcomer who will debut for this soap opera. Watanuki-san Chi No will debut its first episode on Friday 19 April, 2019 at 00:52 JST on TV Tokyo.
Premise
Unlike Virtual-san wa Miteiru that features an assembly of VTubers in several situations and skits, Watanuki-san Chi No will have their main characters portraying the members of the Watanuki family and not as themselves.
Synopsis
In the district of Monzen-Nakacho of Koutou in Tokyo, three sisters live in one house. The Watanuki sisters had a life of hardships, a life without a mother, who died in their early childhood and now without a father, who died just a year ago. Now alone and becoming the inheritors of the Watanuki house, the sisters have to endure several situations in their everyday lives; whether those are happy, sad or special, they will test the sisters' bonds as a family.
Main Cast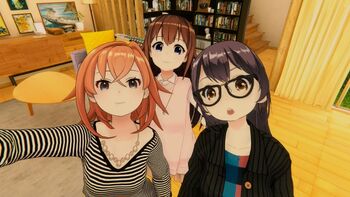 Watanuki-san Chi To
A second season called Watanuki-san Chi To (四月一日さん家と) was announced and it will be premiered on April 2020 [1]. Apart from the main cast reprising the Watanuki family, several vtubers will be joining the cast. The new additions are:
External Links
Community content is available under
CC-BY-SA
unless otherwise noted.