Associated pages
Yogiri (夜霧, lit. Night fog) was a female Chinese VTuber associated with hololive, debuting as part of its Chinese (CN) branch first generation of VUP (Virtual UP, since content creators in bilibili are normally nicknamed "UP" or " UP Master") alongside Civia and Spade Echo.
Introduction video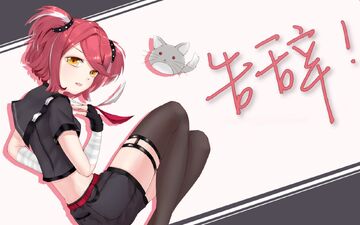 Profile
A delinquent girl with a heart that is wrapped with a gentle warmth. Won't hestitate to protect what is important to her.
Personality
Under her sukeban (delinquent girl) appeal hides a kind and fiery heart. Never retreats as she protects the things she hold dear.
She sometimes make comments with judgemental tone, but as long as the comment comes with any form of emoji and/or open/close parens it means she is saying it jokingly, and is not (emphasis) angry. (She is often mistaken as angry due to her appearance as a sukeban.
Despite her most common appearance, Yogiri actually has an affable personality.
Appearance
She has a twin ponytail with red hair dyed white, but according to the answer she gave to a marshmallow (inquiries from audience) during her debut livestream that her hair was originally white, and is only dyed red.
Her clothing is mostly black, with spikes sticking out to reaffirm her sukeban nature. She wears black fingerless gloves on her hands which are wrapped in white bandages.
The two daggers on her leg is "because I hate eating large chunks of meat, one of them is used to cut up meat, while the other is used to peel the skins off fruits". The taser beside her daggers is actually a maximum drive audio player, which is connected to the wireless earphone on her left ear.
History
Background
Her first bilibili commentary was posted on 6 September 2019.
On 13 September 2019, she uploaded her first video to her bilibili channel, a remix of the song "Cynic".[1]
On 28 September 2019, she made her official debut on bilibili with a stream, in which she also celebrated reaching ten thousand subscribers.[2]
Her Twitter account was created on October, with her first tweet being made on 4 October.[3][4]
2020
On 17 July, Yogiri announced she would get her second 2D costume.
On 28 September, celebrating her debut anniversary, Yogiri debuted her second 2D costume during a stream, she wears a white dress, with a pink sweater, a white choker with a small bottle and a brown bag, she also has the option to wear cat ears, which is a huge contrast to her original costume, she also has a much calmer expression.[5]
At some point on late October, she changed her Twitter account name from "Yogiri_hololive" to "_YOGiRi_owo."
Retirement
On 12 November, hololive's official English Twitter account announcement the graduation date of 5 out of the 6 members of hololive China, Yogiri's retirement is scheduled for 20 December.[6]
On this date Yogiri responded to her illustrator, and thanked her for her support, hoping for her to continue to support Yogiri until her graduation.[7]
At an unknown date between 13 November and 1 December, Yogiri closed her Twitter account "_YOGiRi_owo."
Yogiri stated prior to her graduation that it was unlikely she would reincarnate due to personal beliefs.
On 20 December, Yogiri retired from her activities with a concert in which she also debuted her 3D model, unlike Civia who debuted her 3D model in her graduation stream without full body tracking, Yogiri was able to make full use of the model's capabilities. She is the first non-JP hololive member to have full body tracking for a 3D model.
On 21 December, her Twitter account was reactivated however Yogiri didn't make any new tweets, if the account was reactivated by her or by hololive it is unclear.
Trivia
Her favorite senior hololive VTubers are Akai Haato and Uruha Rushia.
She is good at playing Arcaea.
She likes delicacies and cats. She likes green-tea favored popsicles the most. She has a white-furred chinchilla with red eyes called 饱饱. (Bǎo bǎo, lit. fullness, the antonym of hungry).
Originally, Yogiri's fan mark was only the guitar, but she later added the bottle to not conflict with Holostars member Kanade Izuru.
Yogiri was the last member of hololive CN first gen to retire.
External Links
References