Yozakura Tama (夜桜たま) is a Female Japanese Virtual YouTuber belonging to the Idol Club of .Live.
Introduction Video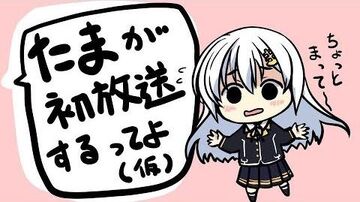 Tama's introduction.

Personality
Tama is a demure, air-headed high school girl who goes about life at her own pace. She was nominated as the president of the student council even though she never announced her candidacy. She is also the leader of the mahjong club. She tends to space out in the morning but the genius-like part of her comes out in the afternoon.
Trivia
Mahjong is listed as her hobby and special skill.
She plays up to fifty matches of mahjong in a single day.
After activities of the Idol Club started, she played over 230 matches on her newly created Tenhou account within a single week.
Her favorite yaku (役) are chiitoitsu (七対子) and iipeikou (一盃口).
Her favorite professional mahjong player is Tsuchida Kōshō (土田浩翔).
She prefers playing shooter games like PUBG, CS: GO, Sudden Attack, etc.
She refers to her fans collectively as "Yozakura Orions" (夜桜オリオンズ).
External Links