We're Getting Mutants in the MCU - The Loop
Play Sound
This is a Japanese name; the family name is Yozora.
Associated pages
Yozora Mel (夜空メル) is a female Japanese Virtual YouTuber associated with hololive, debuting as part of its first generation of VTubers alongside Aki Rosenthal, Natsuiro Matsuri, Shirakami Fubuki and Akai Haato.
Introduction Video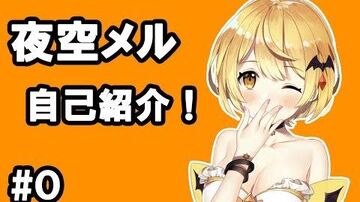 Profile
hololive.hololivepro.com
"Sweet bites! It's Yozora Mel, the Underworld's vampire prodigy!"


A vampire prodigy from the Underworld. She might be a vampire, but she is not into blood. She likes her acerola juice quite a lot.[3]
hololive.tv
"Sweet bites! It's Yozora Mel!"


A vampire girl. Even though she is a vampire, she is not into blood. She loves acerola juice quite a lot.[4]
Personality
Yozora Mel is known for her sweet, calm and caring personality, giving a contrast to what people might expect from her design. She commonly puts others before herself if it means they will benefit from it. She speaks politely and gives a comfy vibe, but also speaks quietly, which can make it difficult to hear her sometimes. She can be questionable at times though, in major part seen when she's with Yuzuki Choco.
History
Background
Yozora Mel opened her Twitter account on 16 April 2018 while her YouTube channel was started on 25 April although her introduction video was not uploaded until 13 May.
2019
On 27 March 2019, she announced in a live-stream that she would be getting a 3D model.[5]
On 29 March, a sneak peek of her new 3D model was shown and the debut date was revealed to be on 2 April.[6] Shirakami Fubuki noted on her stream later that night that the 3D model outfit would be different compared to the original 2D illustration.[7][8] was revealed in a stream on 2 April.[9]
On 1 June, she reached 50,000 YouTube subscribers.
On 23 August, she debuted her swimsuit 3D costume during a stream.[10]
On 6 November, she published in Twitter that her channel was demonetized, explaining that a song she performed was the cause,[11] however like the rest of hololive girls afflicted by this issue, she erased or made private most of her ASMR videos.
On 29 December, she announced on her Twitter account, that she would get a new year 2D costume.[12]
2020
On 1 January, she debuted her new year costume during a stream, being her second 2D costume overall.[13]
On 24 January, along with the other hololive girls up to the third generation, she debuted her 3D idol outfit at hololive's 1st fes. Nonstop Story.[14]
On 29 January, she reached 100,000 YouTube subscribers.
On 31 January, she announced on her Twitter account the remonetization of her channel.
On 16 May, she revealed that she has been victim of harassment in a public statement on her Twitter account, explaining why she had been on semihiatus since October 2019, as she felt unsafe because the perpetrator was someone she knew in real life.
She stated that after taking things to the authorities and court the harassment has stopped since March. In the statement she thanked her fans and hoped to be able to continue her activities at some point. She also stated that she decided to made this issue public wishing that this doesn't happen to other people including other hololive members.[15][16]
On 24 May, Cover Corp, hololive's parent company also released an statement about the issue. They apologized for their mistakes into handling the situation, announcing changes within the company to prevent this for ever happening again and paying for any fees Mel went through into handling with this issue.[17]
After been on full hiatus since early April, Mel announced on 23 June that she would continue with her activities.[18]
On 24 June, after two attempts being prematurely ended by YouTube's algorithm, she returned to her activities with a stream, where she was warmly received by fellow VTubers and fans.[19]
On 7 July, she reached 200,000 YouTube subscribers.
On 31 July, she announced on her Twitter account that her original 2D model would be get an update.[20] She debuted her updated model the next day on 1 August during a stream, featuring more facial expressions, her hair and bat ornament have much better movement, she received improved jiggle physics and she can turn freely in more directions.[21]
On 27 August, she announced on her Twitter account that she would get her third 2D costume.[22] She debuted this costume the next day on 28 August during a stream. Just like her New Year costume, Mel has long hair but this time she uses twintails, with bat wings accessories on both sides. Her previous hair ornament, that used to be shaped like a bat, is now an inverted heart, probably in response to Mel's constant struggle with YouTube's algorithm bot taking down her streams in the past. This costume doesn't show any cleavage, instead using a white blouse with a black corset, and also includes a black and white miniskirt maintained in place with orange suspenders, also decorated with inverted hearts. Finally, she uses asymmetrical tights with shoes decorated with hearts.[23]
On 27 October, she reached 300,000 YouTube subscribers.
2021
On 21 January, she reached 400,000 subscribers on YouTube during an endurance singing stream.[24]
On 4 May, Mel reached 500,000 subscribers on YouTube, making her the 37th hololive member to reach this milestone.[25]
On 9 July, Mel's Twitter account was verified.[26]
On 26 July, Mel renewed her channel's membership feature.
On 6 September, Mel reached 600,000 subscribers on YouTube.[27]
On 8 October, her streaming ability was shut off by Youtube as a one-two punch: Mel was beginning to watch an anime when suddenly the "Stream suspended for policy violations" message appeared. Then the rights to stream was shut off. This was the second channel to be done that, besides Kiryu Coco.[28]
On 16 October, Mel's channel was able to stream again, and she started over the watching.[29]
On 24 October, Mel debuted her first original song, "Chew the Night Sky."[30]
On 24 December, Mel, along with Choco, released the MV for their first collaborative original song, "Choco♡Melty."
2022
On 4 January, Mel's new year costume was updated to the 2.0 version.[31]
On 12 January, Mel announced on her Twitter account that she would get fourth 2D costume.[32]
On 15 January, Mel debuted her fourth 2D costume. In this costume Mel got a new hairstyle using long curly twintails decorated with small bat wings as accessories, like with her loose hair in her third 2D costume the tips of Mel's hair turn orange, in the front to the left she uses a star shaped accessory in pink, yellow and blue. Unlike other outfits, Mel's ears are pierced in multiple zones, the biggest are red heart shaped earrings. Similar to her original costume she uses a black choker with a silver heart instead of the usual golden star. Mel wears a magenta knitted sweater with partially detached sleeves leaving her shoulders exposed, the neck is laced and is decorated by a black ribbon with a diamond shaped red jewel, the sleeves have crossed laces with black bows near the end. Her skirt is black and is supported by black suspenders and a decorative black belt with silver hearts, the skirt has a second layer consisting of black see through cloth. Mel uses a black leg belt around her right thigh, white short socks with big black bows in the back and black shoes. She also has the option to use cat ears, the left cat ear is pierced.[33]
On 26 March, Mel reached 700,000 YouTube subscribers during a endurance singing stream.[34]
On 7 July, hololive's Japanese Twitter account announced that the members of the first generation would get their models updated to the 3.0 version.[35]
On 9 July, the members of the first generation debuted their 3.0 models. The update includes various new facial expressions including the ability to have teary eyes or stick out the tongue. They also received new visual cues to emphasize other emotions. They can also wave their hand, hold a videogame controler and use a keyboard and mouse without external assets.[36]
Discography
Main page: Yozora Mel/Discography
Chew the Night Sky

1st single

24 October 2021

   

"Chew the Night Sky" (かぷっとNight☆Sky, Kaputto Night☆Sky)
"Chew the Night Sky" (instrumental)

External links
Digital Release • Music Video • YouTube
Nagareboshi☆KiraKira

3rd single

24 June 2022

   

"Nagareboshi☆KiraKira" (流れ星☆キラキラ)
"Nagareboshi☆KiraKira" (instrumental)

External links
Digital Release • YouTube
Events
On 7 October 2021, Don Quijote's Twitter account announced that Mel and Noel were selected as "Don Quijote" and would appear in life sized stand-by panels across stores. In addition to Noel and Mel, Marine and Shion were also announced to appear in special merchandize (acrylic stands and badges) with new artwork and special in-store broadcast. Other hololive members were also announced to appear in te collaboration as plushies known as "Mochiduru." The collaboration was available from 23 October, the same day that Noel, Mel, Marine and Shion debuted a cover of Don Quijote's theme song "Miracle Shopping" on hololive's channel.[37]
Fans
Her fanbase is officially called "Kapu-min"「かぷ民」. "Kapu" is the onomatopoeia for nibbling, while the suffix "-min" means "group of people."[3]
Relationships
Quotes
"We are pervert!" - Mel, trying to swear at the viewers after learning the word "pervert" from Kiryu Coco.
Trivia
She is the first hololive member to be part of a generation to debut, debuting half a month earlier than the other first gen members.

She is also the third hololive member to debut ever, after Tokino Sora and Roboco-san.
This also makes Mel the first member to debut with a 2D model.

She was the first hololive member to debut her 3D model with a different design from her original 2D appearance.
Her favorite clothing type is a hoodie.
Mel's birthday is on October the 31st as it coincides with Halloween Day.
Her favorite video game series is Resident Evil.
She is the sixteenth hololive member to join the official Hololive Subreddit as a moderator.
External Links
Media
Further readings
References