This is a Japanese name; the family name is Yukihana.
Associated pages
Yukihana Lamy (雪花ラミィ) is a female Japanese Virtual YouTuber associated with hololive, debuting as part of its fifth generation of VTubers alongside Momosuzu Nene, Shishiro Botan, Mano Aloe and Omaru Polka.
Introduction Video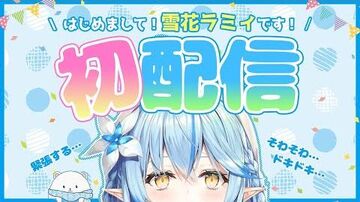 Profile
hololive.hololivepro.com
"Lamyoohoo!"
hololive 5th Generation's blue rep, Yukihama Lamy!
The daughter of a noble family from a distant, snowy land. She decided to leave her home, along with her companion Daifuku, after hololive's streams full of fun and color touched her heart. Her serious personality belies her naive, sheltered nature.[6]
hololive.tv
A snow elf from a noble family renowned in the remote Land of Silver. She decided to leave her home, along with her companion Daifuku, after her heart was touched by the fun and colorful streams from hololive. Her serious personality belies her naive, sheltered nature.[7]
Personality
Her personality can be described as "pure and all-loving." Lamy is soft-spoken, kind, and gentle, but somewhat shy and easily flustered. Both her friends and fans refer to her as "Lamy-mama" due to her motherly aura.
She is close with the rest of the fifth generation of hololive, Shishiro Botan especially. The two are known for their playthroughs of horror games, with some commenting on Botan acting like a protective husband for the terrified Lamy (despite the former clearly enjoying Lamy's reactions).
While Lamy was originally touted as one of the more "seiso" members of hololive (similar to the traditional idol-like Tokino Sora), this has since come into question by both the fanbase and other holomembers due to occasional moments of lewdness, some yandere tendencies, and (most of all) her fondness for alcohol.
History
Background
She was introduced on hololive's YouTube channel in a small introductory video along with the rest of the fifth gen on 6 August.[8] Her Twitter account was created in April 2020. She made her first tweet on 6 August.[9] Her YouTube channel was created on 12 April but she debuted until 12 August 2020 during a stream, reaching 100,000 subscribers during that day.[10]
2020
On 8 December, she reached 400,000 YouTube subscribers.
On 29 December, hololive's Twitter accounts announced that eight of their members would get "New year" costumes, Lamy being one of them.[11]
2021
On 1 January, she debuted her second 2D costume, a new year kimono during a stream, along with her new hairstyle, she can choose to wear cat ears and tail, her mascot Daifuku also received a change as Daifuku is inside a bowl instead of the usual pot.[12]
On 4 January, hololive's official Twitter account teased a future announcement regarding three of the four members of hololive fifth generation.[13]
On 20 January, Lamy announced on her Twitter account that she would get her 3D model.[14]
On 24 January, she debuted her 3D model during a stream with more than 90,000 live viewers becoming the third member of her generation to get hers. On the same day, she also reached 500,000 YouTube subscribers, making her the 29th hololive member to reach this milestone.[15]
On 1 April, she reached 600,000 YouTube subscribers during a Ring Fit Adventure stream.[16]
On 12 June, she reached 700,000 YouTube subscribers.[17]
On 1 September, hololive's Japanese Twitter account announced that Lamy and Botan would receive their third 2D costumes.[18] On the same day she reached 800,000 YouTube subscribers.[19]
On 2 September Lamy debuted her third 2D model, in this costume Lamy has two hairstyle options, the first one is similar in style to her original however she has two small pigtails decorated with black ribbons and decorative snowflakes. In this costume, she wears a white blouse accompanied by a plaid brown dress, which is decorated by a black ribbon, as well as two small crystal-like buttons with the same design as her necklace and the pattern present in her skirt. Lamy uses black socks and white shoes. Lamy can also use cat ears, a white sweater and hold a white Yuki-min plushie.[20]
On 25 September in celebration of the fifth generation first anniversary, Lamy got a new hairstyle using a ponytail tied up with a black ribbon in one site of the ribbon there is a small accessory that consist of four hearts in different colors fuchsia, yellow, light blue and green that are put together, on her right side she uses crossed hairpins with the same colors, fuchsia combined with yellow and light blue combined with green, in her ponytail Lamy has some lights with these colors as well.[21]
On 12 November, Lamy debuted new accessories for her kimono outfit. She got a new hairstyle using loose hair, on the left side she wear a hairpin shaped like a small bottle with a crescent moon, on top of her kimono she wears a pink Haori with a sakura pattern that matches her skirt. Lamy can now also move her arm to hold an Ochoko cup.[22]
On 15 November, Lamy debuted her first original song "Asu e no kyōkai-sen."
On 23 December, Lamy debuted new accessories for her third 2D model, a Santa hat and bread.[23]
On 27 December, Lamy reached 900,000 YouTube subscribers.[24]
Discography
Main page: Yukihana Lamy/Discography
Asu e no kyōkai-sen
1st single
16 November 2021    

"Asu e no kyōkai-sen" 明日への境界線
"Asu e no kyōkai-sen" (Instrumental)

External links
Digital Release • Music Video
Events
Mascot and Fans
Trivia
External Links
Further readings
References