This is a Japanese name; the family name is Yukihana.
Associated pages
Yukihana Lamy (雪花ラミィ) is a female Japanese Virtual YouTuber associated with hololive, as part of its fifth generation of VTubers alongside Momosuzu Nene, Shishiro Botan, Mano Aloe and Omaru Polka.
Introduction Video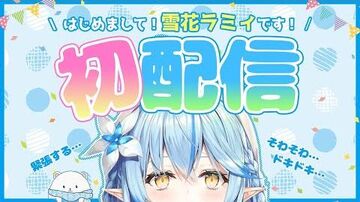 Lamy's introduction.

Personality
Her personality can be described as "pure and all-loving". Lamy is soft-spoken, kind, and gentle, but somewhat shy and easily flustered. Both her friends and fans refer to her as "Lamy-mama" due to her motherly aura.
She is close with the rest of the fifth generation of hololive, Shishiro Botan especially. The two are known for their playthroughs of horror games, with some commenting on Botan acting like a protective husband for the terrified Lamy (despite the former clearly enjoying Lamy's reactions).
Despite occasional lewd moments, Lamy is arguably the most "seiso" member of hololive aside from the traditional idol-like Tokino Sora.
Profile
A snow elf from a noble family renowned in the remote Land of Silver. She decided to leave her home, along with her companion Daifuku, after her heart was touched by the fun and colorful streams from hololive. Her serious personality belies her naive, sheltered nature.[5]
History
Background
She was introduced on hololive's YouTube channel in a small introductory video along with the rest of the fifth gen on 6 August.[6] Her Twitter account was created in April 2020. She made her first tweet on 6 August.[7] Her YouTube channel was created on 12 April but she debuted until 12 August 2020 during a stream, reaching 100,000 subscribers during that day.[8]
2020
On 8 December, she reached 400,000 subscribers.
On 29 December, hololive's Twitter accounts announced that eight of their members would get "New year" costumes, Lamy being one of them.[9]
2021
On 1 January, she debuted her second 2D costume, a new year kimono during a stream, along with her new hairstyle, she can choice to wear cat ears and tail, her mascot Daifuku also received a change as Daifuku is inside a bowl instead of the usual pot.[10]
On 4 January, hololive's official Twitter account teased a future announcement regarding three of the four members of hololive fifth generation.[11]
On 20 January, Lamy announced that she would get her 3D model.[12]
On 24 January, she debuted her 3D model during a stream with more than 90,000 live viewers becoming the third member of her generation to get hers.[13] On the same day, she also reached 500,000 YouTube subscribers, making her the 29th hololive member to reach this milestone.
On 1 April, she reached 600,000 subscribers during a Ring Fit Adventure stream.[14]
Discography
Singles
Mascot and Fans
She has a snow fairy companion named Daifuku which looks like a small polar bear inside a pot and is named after a Japanese sweet. Daifuku can accompany Lamy in her streams and imitate her emotions.[8]
Her fanbase is officially called "Yuki-min" (雪民) which means snow people.[15]
Trivia
Despite being a snow elf, she doesn't like cold climate.
She likes spicy food, handcraft, aquariums, planetariums, dioramas, and Japanese culture.
Part of her skirt is see-through.
Her surname, "Yukihana" (雪花) translates to "snowflake".
She likes traditional Japanese sake, but she is not very good at drinking.

Despite this statement, Lamy is perhaps the heaviest drinker in hololive.

She likes time leap anime, including Re:Zero, Erased, Charlotte, STEINS;GATE, Puella Magi Madoka Magica, but also likes: Love Live!, Violet Evergarden, Anohana, Nichijou, Code Geass and JoJo's Bizarre Adventure.
External Links
References
Community content is available under
CC-BY-SA
unless otherwise noted.