This is a Japanese name; the family name is Yuzuki.
Associated pages
Yuzuki Choco (癒月ちょこ) is a female Japanese Virtual YouTuber associated with hololive, debuting as part of its second generation of VTubers alongside Minato Aqua, Murasaki Shion, Nakiri Ayame and Oozora Subaru.
Introduction Video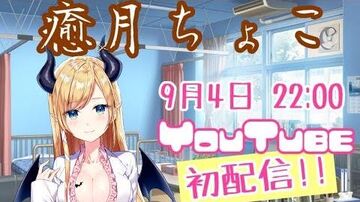 Profile
hololive.hololivepro.com
"Good evening, my cute students! Choc-on!"

The school nurse at the Underworld Academy. Is incredibly popular among the students, with the boys in particular coming to get checked up all the time. Loves sweets, and often gets into trouble for leaving them strewn about on her desk.[4]
hololive.tv
"Good evening, my cute students! It's your teacher, Choco!"

A health doctor from the Demonic-Realm Academy. Has a high reputation around the school. It was told that the line of male students never ends. She loves snacks quite a lot, although one time her desk was caked with food wrappers, and she was then scolded badly.[5]
Personality
With a way of speaking that blurs the line between maternity and seduction, Choco is as sweet as her name suggests. Because she blurs the line between erotic and motherliness so much to the verge of pointless nitpicking and is so unapologetically feminine as a result, she has caused various confusion and mixed responses as to how others see her. For example, while Aragami Oga has described her as unironically "family-friendly", YouTube previously de-moneitized her for being "too sexy". Even the animators behind Holo Grafiti seem to take advantage of this facet, as she has been depicted gently rocking Rushia to get her to calm down one episode, but provocatively depicted in the next.
As a former school nurse, she is cautious about her audience's wellbeing and health. She is most well known for her ASMR streams that soothe and relax listeners, though some do feel heat from the erotic undertones. True to her old life as a teacher, she is very knowledgeable and will sometimes take up the role of a teacher to pop quiz other holoIdols as challenges. Though being a demon, sometimes her sense of humor can be rather morbid, such as the time in her birthday stream in which she promised to take Oozora Subaru to a fun haunted house of horrors, before becoming the horror herself trying to cook the ducky idol alive, toying with her life.
She greets her viewers with "Good evening, my cute students. Cho-kon!~♪"
History
Background
Her YouTube channel was created on 19 August 2018, with her Twitter account opening the same month. Her YouTube debut was on 5 September 2018.[6]
2019
On 22 May, she announced that she would get her 3D model. that would be revealed on 25 May.[7] She debuted her 3D model on said date, however the stream is no longer available.[8]
On 25 July, she debuted her second 2D costume, a nurse uniform.[9]
On 25 August, she published on Twitter that she would get a 3D swimsuit costume.[10] Later on 27 August she debuted her 3D swimsuit, this stream is no longer available.[11]
During October she started having problems with YouTube and her ASMR videos.[12] These videos likely caused the demonetization of her channel, as these videos were made private or erased shortly after streaming.
Sub Channel
As result of the demonetization of her channel, on 4 December she announced on Twitter the creation of a sub channel, with her first stream taking place on 5 December.[13][14]
It is worth noticing that unlike Aki and Haato that also created secondary channels because of demonetization issues and quickly stopped updating their sub channels, Choco actually updates both of her channels frequently. Even after regaining the monetization of her main channel.
2020
On 1 January, she announced on her Twitter that she would get her third 2D costume, a kimono in celebration of the new year, the costume was later revealed the same day during a stream in her sub channel.[15][16] This costume was actually designed nearly a year earlier, as this design can be seen in miniatures of her main channel as early as 4 January 2019.[17]
On 19 January, she published on Twitter that the reapplication for the remonetization of her channel was rejected.[18]
On 24 January, along with the other hololive girls up to the third generation, she debuted her 3D idol outfit at hololive's 1st fes. Nonstop Story.[19]
On 1 February, she recovered the monetization on her main channel. She confirmed this in Twitter the next day.[20]
On 28 July, she announced on her Twitter account that her original 2D model would get an updated to the 2.0 version. She debuted her updated next day on 29 July, featuring more facial expressions, she can move and turn in more directions, her hair was also updated to reflect her head turns, one notable change is that her model was updated so she can now wear a black blouse to cover her cleavage if she wants to, her tail also received movement along with her legs and the lower half of her coat.[21][22]
On 16 October, hololive's Twitter account announced that Choco, Houshou Marine, Shirogane Noel and Murasaki Shion would get new 2D costumes.[23]
On 25 October, she debuted her fourth 2D costume, a maid outfit.[24]
2021
On 25 January, she reached 500,000 YouTube subscribers, making her the 30th hololive member to reach this milestone and the last of her generation.
On 28 January, Choco planned to celebrate her 500,000 subscriber milestone with an ASMR stream, but was forcefully interrupted by YouTube.[25]
On 29 April, Choco reached 600,000 YouTube subscribers during an Apex Legends endurance stream. She celebrated the milestone by scoring 59 kills in-game.[26]
On 31 July, she reached 700,000 YouTube subscribers.[27]
On 5 September, Choco debuted her first solo original song, "ChocoLove."[28]
On 11 November, Choco's main model received another update, as she can now move her wings and take out her coat and move her hands in front of her chest and wear glasses.[29]
On 24 December, Choco, along with Mel, released the MV for their collaborative original song, "Choco♡Melty."
Discography
Events
On 4 April 2019, she made an appearance in hololive's collaboration with Dawn of the Breakers as one of the characters alongside Roboco, Shirakami Fubuki, Minato Aqua and Oozora Subaru. She has the distinction of being the only member that was never available as a playable character and also the only one that didn't receive new artwork for the game.[30]
On 28 January 2020, it was announced on DengekiOnline that she would made an appearance in the game Neptunia Virtual Stars as one of the VTuber guest characters alongside Tokino Sora, Roboco, Sakura Miko, Shirakami Fubuki, Minato Aqua, Inugami Korone, Shirogane Noel and Houshou Marine.[31]
Fans
Her fanbase is officially called "Choco mate"「ちょこめいと」 and she refers to her individual viewers as "students."
Relationships
Notable units and groups Choco is a part of are:
Trivia
Her Kanji allude to her being a school nurse and are as thus:

「癒」means to heal or cure.
「月」means moon but can also represent Monday on the calendar.

Choco's YouTube banner romanizes her last name as "Yuduki," rather than Yuzuki.
Contrary to popular belief, she is NOT a succubus but merely a common demon with the beauty of one.
Choco has a pet cat named Chocola.[33]
She has a tendency to fall asleep easily, leading to her holding one of the highest records for longest amount of time someone has overslept. She's even fallen asleep during streams.
Although it may seem like she doesn't make ASMR anymore, she still does. She does live broadcast for everyone to see if one may catch them fast enough but those who miss her ASMRs would have to pay a membership to view the archive.
Choco uses the -sama honorific when talking about or to other VTubers, as well as using it to refer to her viewers, to show respect.
She has proven herself to be a great cook on several occasions, but is also a picky eater.
When talking about her favorite ero-manga genres such as chikan stories, she ended up being reminded of a real live molester scenario she had experienced. However, instead of comparing with disgust, she described real molesters as poor or even flat out terrible at molesting to a humiliating degree, barely eliciting the excitement she experiences in said ero-manga.
She often tweets ア"ア"ア"ア"ア"ア"ア" when she just woke up, and fans replied her tweet with "Ohachocon."
External Links
Further readings
References