This is a Japanese name; the family name is Yuzuki.
Associated pages
Yuzuki Choco (癒月ちょこ) is a female Japanese Virtual YouTuber associated with hololive, as part of its second generation of VTubers alongside Minato Aqua, Murasaki Shion, Nakiri Ayame, and Oozora Subaru.
Introduction Video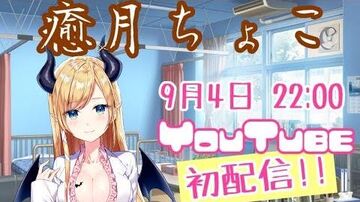 Choco's introduction.

Personality
Choco is a demon working as a health doctor of the Demonic-Realm Academy. She is very popular among both the males and females in the school, especially the male students who constantly seek her consultations. She likes snacks and will get angry if the snacks on her desk are misplaced.
History
Background
Her YouTube channel was created on 19 August 2018, with her Twitter account opening the same month. Her YouTube debut was on 5 September 2018.[4]
2019
On 22 May, she announced that she would get her 3D model. that would be revealed on 25 May.[5] She debuted her 3D model on said date, however the stream is no longer available.[6]
On 25 July, she debuted her second 2D costume, a nurse uniform.[7]
On 25 August, she published on Twitter that she would get a 3D swimsuit costume.[8] Later on 27 August she debuted her 3D swimsuit,[9] this stream is no longer available.
During October she started having problems with YouTube and her ASMR videos.[10] These videos likely caused the demonetization of her channel, as these videos are made private or erased shortly after streaming.
Sub Channel
As result of the demonetization of her channel, on 4 December she announced on Twitter the creation of a sub channel,[11] with her first stream taking place on 5 December.[12]
It is worth noticing that unlike Aki and Haato that also created secondary channels because of demonetization issues and quickly stopped updating their sub channels, Choco actually updates both of her channels frequently. Even after regaining the monetization of her main channel.
2020
On 1 January, she announced on her Twitter that she would get her third 2D costume, a kimono in celebration of the new year, the costume was later revealed the same day during a stream in her sub channel.[13][14] This costume was actually designed nearly a year earlier, as this design can be seen in miniatures of her main channel as early as 4 January 2019.[15]
On 19 January, she published on Twitter that the reapplication for the remonetization of her channel was rejected.[16]
On 24 January, along with the other hololive girls up to the third generation, she debuted her 3D idol outfit at hololive's 1st fes. Nonstop Story.[17]
On 1 February, she recovered the monetization on her main channel. She confirmed this in Twitter the next day.[18]
On 28 July, she announced on her Twitter account that her original 2D model would get an updated to the 2.0 version. She debuted her updated next day on 29 July, featuring more facial expressions, she can move and turn in more directions, her hair was also updated to reflect her head turns, one notable change is that her model was updated so she can now wear a black blouse to cover her cleavage if she wants to, her tail also received movement along with her legs and the lower half of her coat, her model is now in line with the model capabilities of hololive members from the GAMERS unit onwards.[19][20]
On 16 October, hololive's Twitter account announced that Choco, Houshou Marine, Shirogane Noel and Murasaki Shion would get new 2D costumes.[21]
On 25 October, she debuted her fourth 2D costume, a maid outfit.[22]
Events
On 4 April 2019, she made an appearance in hololive's collaboration with Dawn of the Breakers as one of the characters alongside Roboco, Shirakami Fubuki, Minato Aqua and Oozora Subaru. She has the distinction of being the only member that was never available as a playable character and also the only one that didn't receive new artwork for the game.[23]
On 28 January 2020, it was announced on Dengekionline that she would made an appearance in the game Neptunia Virtual Stars as one of the VTuber guest characters alongside Tokino Sora, Roboco, Sakura Miko, Shirakami Fubuki, Minato Aqua, Inugami Korone, Shirogane Noel and Houshou Marine.[24]
Fans
Her fanbase is officially called "Choco mate" (ちょこめいと).
Trivia
External Links
References
Community content is available under
CC-BY-SA
unless otherwise noted.